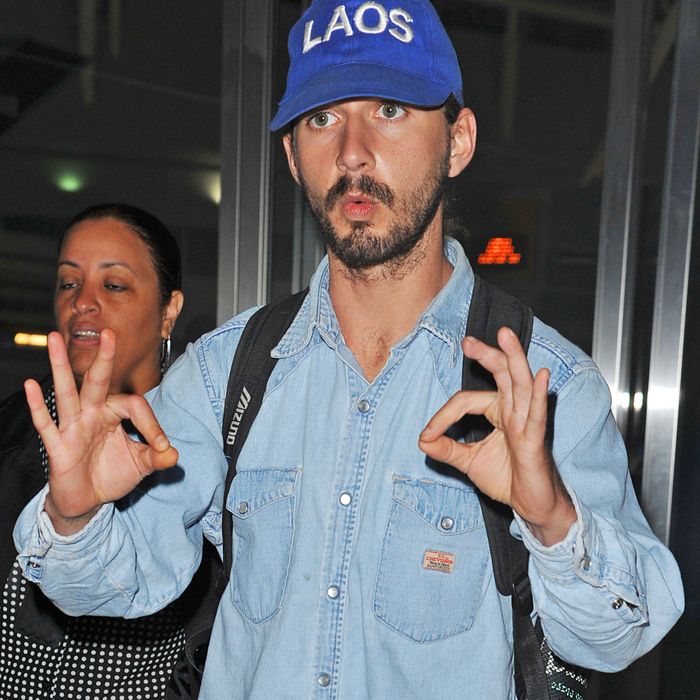 Photo: Josiah Kamau/BuzzFoto/FilmMagic
Problem drinker and confirmed weirdo Shia LaBeouf told Page Six he fell off the wagon in order to better fulfill his role as a Prohibition-era bootlegger in Lawless.
"I did it for the movie. I didn't drink off set for no reason. I did it because, when I showed up on set the next day, my [bleep]ing eyes looked like this and my face… had that drunk bloat that I needed, that I couldn't have if that wasn't going on."
Sounds like someones trying to get Daniel Day-Lewis's attention. Instead, LaBeouf's method drunkenness apparently freaked out his co-star, 22-year-old Mia Wasikowska.
"She was calling her attorney, like, 'Get me the [bleep] out of here,'" LaBeouf told the tabloid. "Mia was ready to walk away from the movie. I was really pretty aggressive about it, and not in any kind of weird, strange way, but I don't think she had ever experienced anything like that."
No further explanation of what exactly he got "really pretty aggressive" about, but LaBeouf said two have since become friends. Not just for the movie?