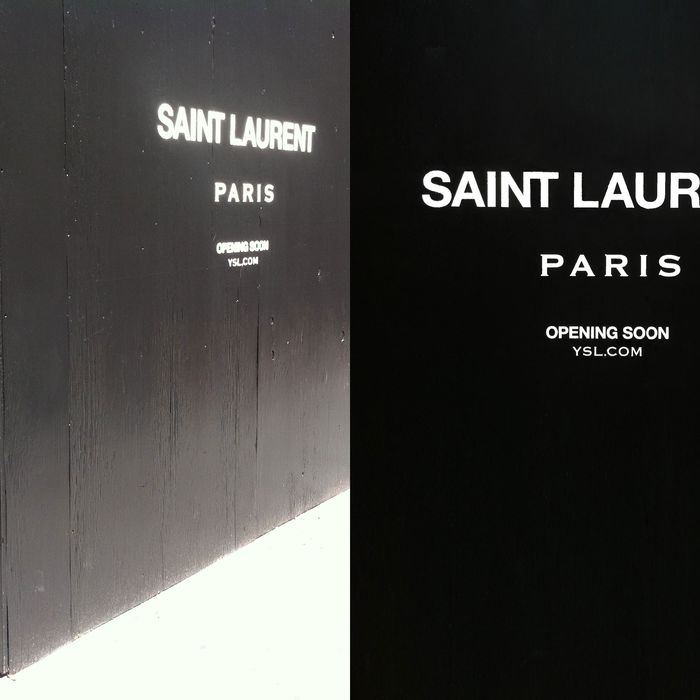 Saint Laurent's new logo, revealed on the soon-to-be-opened Soho storefront.
Photo: Kailey Kramer
Hedi Slimane's controversial choice to revamp Yves Saint Laurent's ready-to-wear label by changing its name to Saint Laurent Paris and remodeling its logo to resemble its 1966 version has garnered both criticism and praise from the designers' peers and customers. In this month's Vanity Fair, Slimane explained his thought process behind the re-branding.
It is interesting to see how much reaction this retro branding has created … Clearly, this period of the history of the house was not well-known, which I trust was a surprise for Pierre Bergé [Saint Laurent's long-term partner]. I went back to 1966 — just before the events of 1968 [when 11 million workers revolted against the conservative politics of then-President Charles de Gaulle — the biggest general strike in history], but the awakening of youth was in the air, and Yves Saint Laurent wanted to dissociate himself from the clientele of haute couture and embrace this new generation.
In other words, these decisions were well researched and not just made willy-nilly. But then again, how can anyone truly decide what to think about all this before they've seen Slimane's designs?