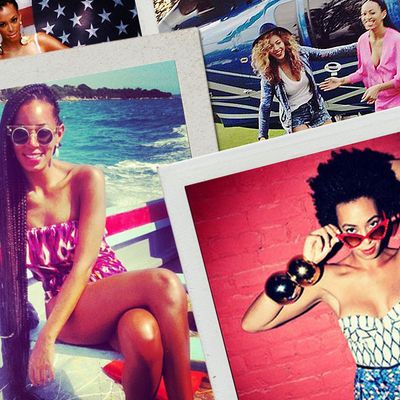 About a month ago, Solange Knowles sent out a cryptic tweet letting her followers know that she was abandoning Instagram, much to their dismay. Her short stint on the photo stream (her handle: mydamnstagramsss) had been filled with trips to sunny locales, cute dogs, guest appearances by Beyoncé, and all of the D.J.'s signature breezy style statements (think door-knocker earrings, graphic print shorts, chunky bangles, glossy red shades). Although all of those photos have been deleted, like everything else on the Internet, it just takes a bit of sleuthing to dig them back up. Click ahead to see some of Solange's best summery shots, plus our advice on how to re-create the looks — famous big sis not included.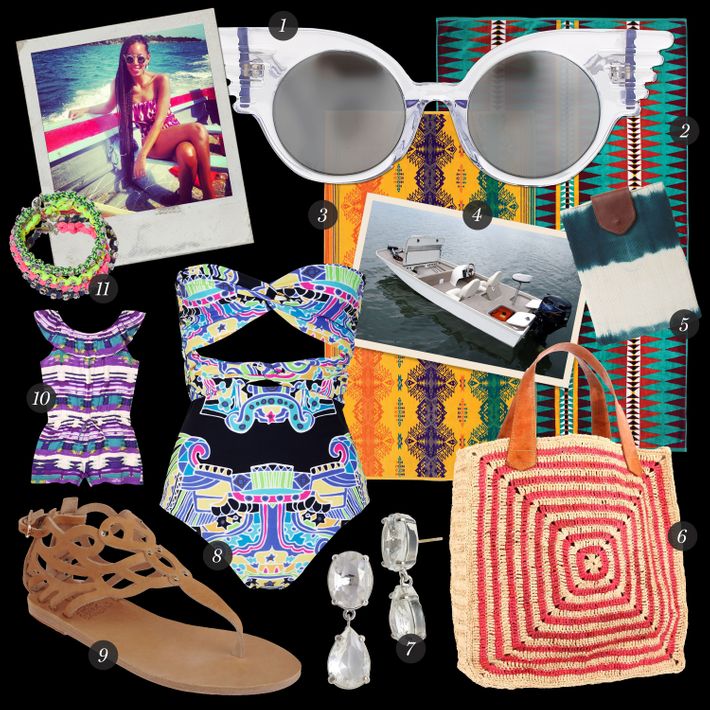 For that last sunny trip out on the water, an ikat one-piece and a simple Grecian-inspired sandal are all you need. Toss a coordinating towel and some chunky Lucite sunnies in that raffia tote and "all aboard!"
1. Jeremy Scott for Linda Farrow wings sunglasses, $299.68 at Linda Farrow; 2. Pendleton turquoise trail spa towel, $48 at Pendleton; 3. Pendleton Sun Dancer spa towel, $48 at Pendleton; 4. Jon Boat, prices vary at Hoplite Boats; 5. Dip-dye iPad case, $58 at Anthropologie; 6. Mar Y Sol Panama crochet raffia tote, $90.31 at Endless; 7. kate spade new york pop palette drop earrings, $58 at Nordstrom; 8. Mara Hoffman carnival printed bandeau swimsuit, $235 at Net-a-Porter; 9. Ancient Greek Sandals Medea, $255 at Barneys; 10. Forever 21 ikat print romper, $15.90 at Forever 21; 11. Zara multicolored neon bracelets with diamante, $19.90 at Zara.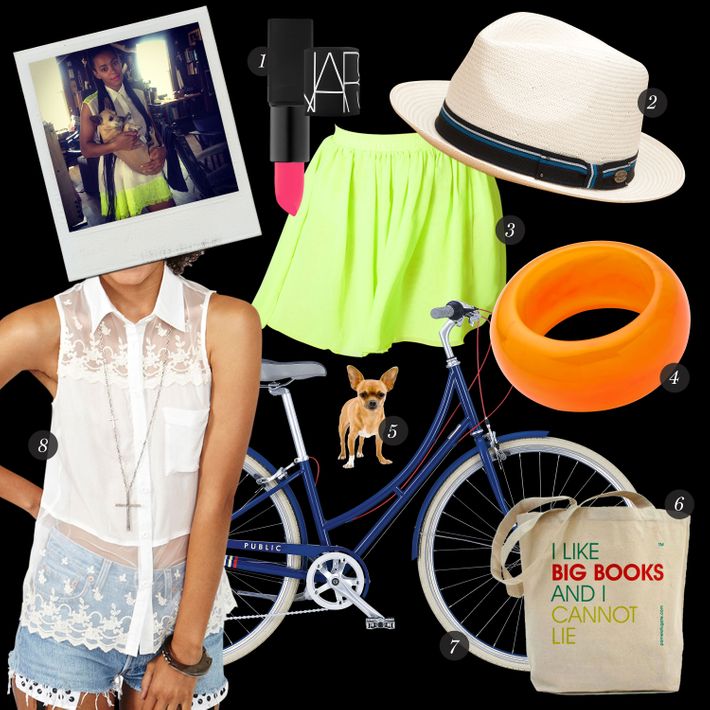 A pop of neon with a lightweight lacy blouse provides the perfect punch to her Dutch-style bicycle as she cruises with her furry friend through Brooklyn.
1. NARS Schiap lipstick, $24 at Sephora; 2. Original Penguin straw fedora, $54 at Original Penguin; 3. American Apparel chiffon double-layered shirred waist skirt, $42 at American Apparel; 4. Kenneth Jay Lane thick resin bangle, $54 at Shopbop; 5. Chiihuahua, at Adopt-a-Pet; 6. Pamela Fugate Designs tote, $34.95 at Etsy; 7. Public C7 bike, $595 at Public Bikes; 8. Love Child lace shirt, $48 at Nasty Gal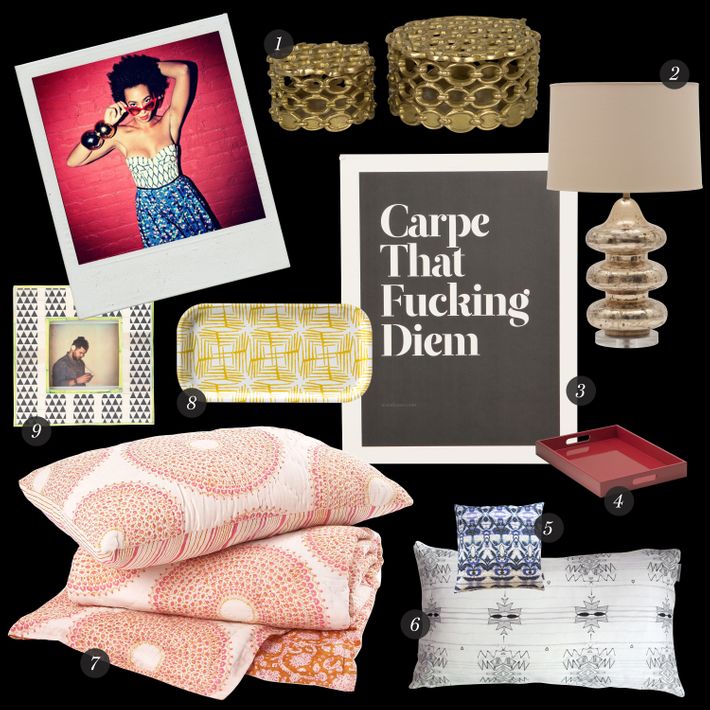 If you are looking to bring a little Solange-inspired eclecticism into your home décor, rather than your wardrobe, simply layer on the textures and patterns accented with a big dose of color.
1. Brass link boxes, $175 and up at Jayson Home; 2. Alton lamp, $695 at Jayson Home; 3.Wordboner for Society6 Carpe print, $24 at Urban Outfitters; 4. West Elm rectangular lacquer tray, $23 at West Elm; 5. Eskayel Natale Cerulean pillow, $100 at Eskayel; 6. Eskayel Akimbo 4 greyscale pillow, $76 at Eskayel; 7. John Robshaw Kashmir quilt and shams, $80 (shams) and $395 (quilt) at John Robshaw; 8. Artists' Canvas Collection small tray, $45 at Teroforma; 9. Four Corners picture frame, $19 at Urban Outfitters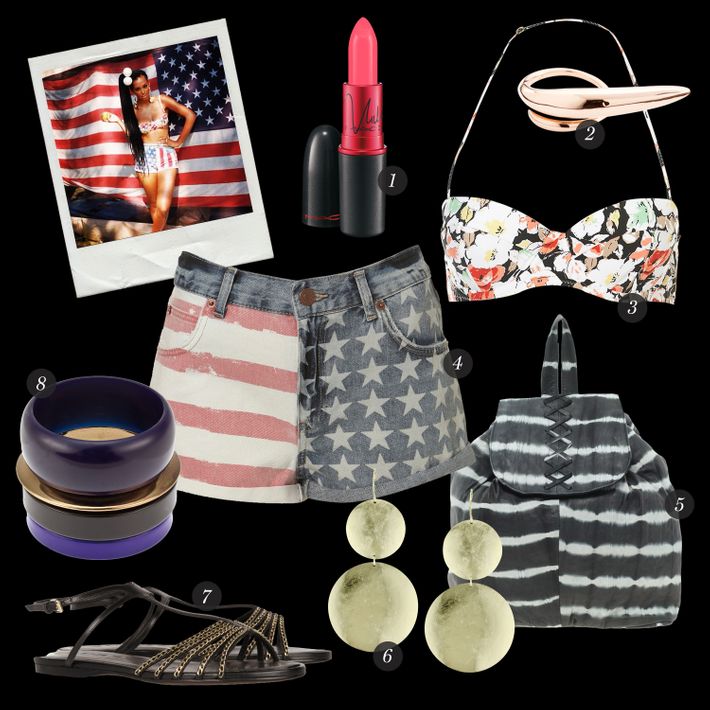 Labor Day is the last chance to wear a patriotic-inspired outfit until next year, but adding in over-the-top accessories like big earrings and a floral bikini top keep it playful.
1. M.A.C. Cosmetics Viva Glam Nicki, $15 at M.A.C. Cosmetics; 2. Made Her Think wrapped talon knuckle buster ring, $207 at Made Her Think; 3. Topshop dark floral bikini top and pants, $24 at Topshop; 4. Topshop petite flag print denim shorts, $68 at Topshop; 5. Jocasi leather backpack, $115.80 at ASOS; 6. Sheila Fajl 18k gold-plated two large coin earrings, $103 at Endless; 7. Burberry chain-embellished leather sandals, $495 at Net-a-Porter; 8. French Connection four pack bangle set, $30.65 at ASOS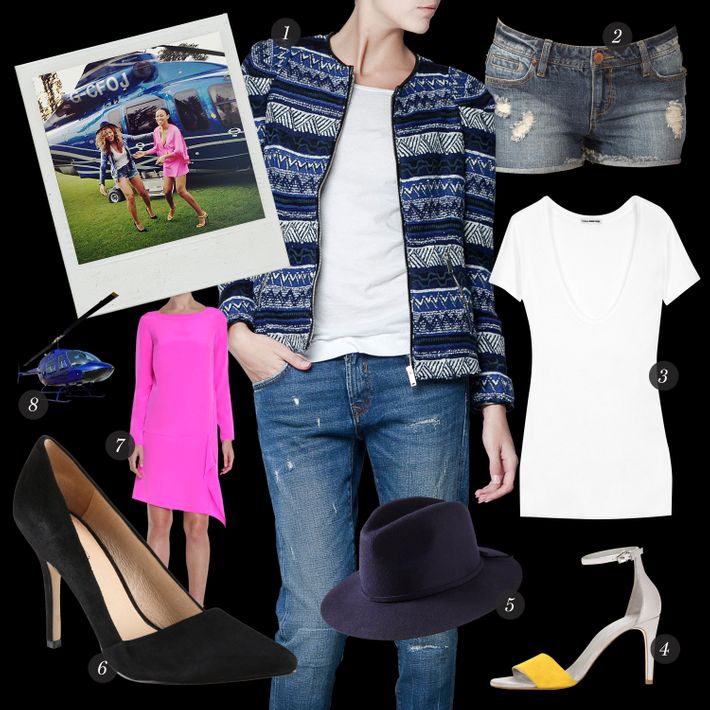 With a big sister who commands the spotlight (even when wearing cutoffs and a jacket), a bright-pink dress and slinky yellow heels keeps you from fading into the background. 
1. Zara printed cardigan with zip, $129 at Zara; 2. Life in Progress destroyed cuffed denim shorts, $22.80 at Forever 21; 3. James Perse cotton-jersey T-shirt, $65 at Net-a-Porter; 4. Alexander Wang Carmen heels, $465 at Alexander Wang; 5. Banana Republic felt Panama hat, $59.50 at Banana Republic; 6. Aldo Romelia pumps, $90 at Aldo; 7. tibi solid silk shift dress, $385 at tibi; 8. New York City Helicopter Tours, packages from $167 at Liberty Helicopter