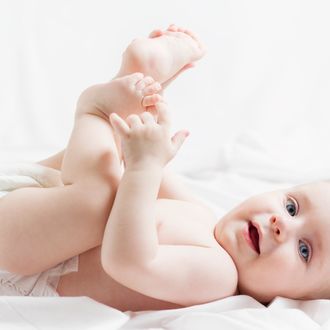 Photo: Miljan Mladenovic/iStockphoto
Previously neutral on infant circumcision, the American Academy of Pediatrics announced today that the procedure's health benefits now clearly outweigh the risks, CNN reports. It was the first time the AAP had changed its policy in thirteen years, the culmination of a circumcision task force formed in 2007. Citing African studies, the task force found that circumcision was associated with lower risks of HIV and HPV infection, as well as lower risks of penile cancer and urinary tract infections.
Opponents of circumcision, who call themselves "intactivists" and tend to congregate in parenting forums, liken it to female genital mutilation and argue that performing nontherapeutic surgery before a patient is old enough to consent infringes upon his "bodily integrity." In response to today's announcement, Doctors Opposing Circumcision pointed out that medical professionals have a financial incentive to increase circumcision rates, in decline since the 1980s.
In 2010, San Francisco intactivists tried to get circumcision-banning legislation on the books locally, but a state law blocking its criminalization was passed the next year. In June, a German court made performing circumcisions illegal in the Cologne region, drawing accusations of anti-Semitism. The AAP called for insurers to make circumcisions available to all patients but shied away from recommending it as a "routine" procedure, taking into account the moral, religious, and cultural factors at hand.