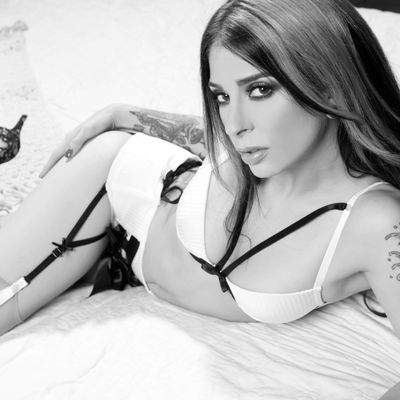 Photo: Courtesy of Joanna Angel
Joanna Angel's spiel is the same for each guy: "Okay, so I am a porn star. No, really I am. Oh, you are too? Well, you're lying. Because the industry is small and I'd recognize you! So, actually, I guess I'm here because it has been hard for me to find a guy who is okay with what I do. What I am asking is, would you be okay with dating a porn star?"
Joanna is being modest. She directs, writes and stars in pornography, as the CEO of alt-porn site Burning Angel; she also enjoys video games, hiking, and eating cheese. After a six-year relationship with a male porn star, she has decided to date outside the industry, because "dating someone you work with is hard." But dating outside the industry can be pretty hard, too.
We choose a speed-dating event hosted by NYEasyDates and held at a Tribeca bar. The lady-daters sit at rows of plush zebra-print chairs, looking like they are awaiting pedicures rather than sexual advances from balding men. Joanna arrives late, looking L.A. with pink and black hair and a casual hoodie, but not "L.A. porn star." She is short (4'11") and fit but not plasticized. She wears only a little mascara. When I lean in to say hello, I notice she smells like fresh laundry with a hint of menthol.
The dating moves quickly; each guy gets two minutes before the next rotates in. Two men in a row don't say anything after Joanna's porn star spiel. They spend the remainder of the two minutes staring around the room.
One man responds to her spiel with a long story about the time he saw Ron Jeremy eating tacos. A balding blond in high-waist pants stares blankly at Joanna during the porn star pitch, then continues with the same bit he used on the previous woman, about a job he once had at Warner Bros answering letters as Bugs Bunny. Joanna nods and smiles, and he tells her it was nice to meet her, never mentioning the porn thing.
A sociology professor is intrigued with Joanna and impressed that she went to Rutgers. She explains that she was an English major, and that she and her roommate started the porn site during their senior year, when Joanna didn't know what she'd do after graduation.
The professor is also interested in Joanna's relationship with her parents. "My parents love me but they don't love what I do," she says, then lists her favorite Jewish holidays (she grew up in an Orthodox home) and the traditions that follow.
Joanna orders a glass of pinot grigio and loosens up. "So in the morning," she says to the next guy, "it would be like 'bye honey I am going to work!' But work means that I am getting nailed in the ass by a bunch of different people. Are you going to come home and eat dinner with me like that is cool? Because that is what I am looking for."
"As long as dinner is cooked well, I would be totally cool with that," he responds, making Joanna laugh.

The next guy sits down and reads Joanna's nametag. "So you are Joanna A. I am Scott A. That means if we were growing up together we'd sit next to each other in school."

"Yeah!"

"You know what else that means? We would either love each other or hate each other."

"Awww. But love and hate are kind of the same thing. You can't love anyone that you don't hate.  And you can't hate anyone that you don't love."

They clink glasses. After the two minutes are up, Joanna gives him a copy of her latest movie, Fuckenstein. He holds the DVD, seemingly in a daze, and carries it into the next date.
When the bell rings to signal the end of speed-dating, the professor returns and asks Joanna if she would like to have a picnic in Central Park on Sunday. She can't, she's shooting a girl-on-girl scene at an artist loft in Bushwick this weekend. The professor was nice, Joanna tells me later, but there was no real spark.
"You know," she says between sips of wine, "I could write a porn movie about speed dating now that I've done it." We gather our things and Joanna leaves her ratings sheet at the bar.