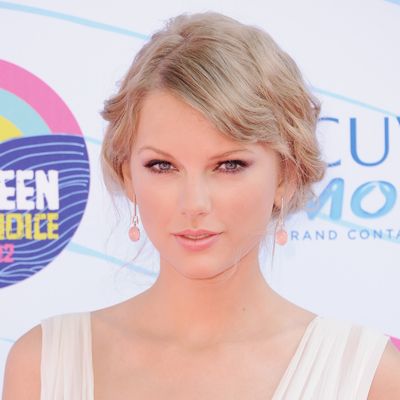 Photo: Jon Kopaloff/FilmMagic
They say a kind word goes a long way. For Taylor Swift, it goes all the way to the Kennedy Compound in Hyannis Port.
The Nashville-based country pop megastar has reportedly purchased a $4.9 M. home on Cape Cod not far from the home of her friend, Ethel Kennedy, 84, also the grandmother of her boyfriend, Conor Kennedy, 18. At first glance, theirs is an unlikely friendship. But Swift may have laid the groundwork with a glowing quote in Vogue six months ago. In January, Swift told Jonathan Van Meter that the only time she had ever been "starstruck" was meeting Caroline and Ethel Kennedy.
"I got to spend the afternoon with Ethel a couple of weeks ago. She is one of my favorites because you look back at the pictures of her and Bobby and they always look like they are having the most fun out of everybody. You know, eleven kids, all these exotic animals on their property. I've read a lot about them."
(This actually rings true. Most other celebrities she just writes songs about or bakes cookies with.)
Since then, Swift has been photographed in a bikini with Robert F. Kennedy, Jr. and deemed "lovely" by Kick Kennedy in The New York Post, of all places. The Robert F. Kennedy Center for Justice and Human Rights will honor the singer's "commitment to social change," according to the Boston Globe.
But can their sudden coziness really be attributed to glossy magazine ingratiation? 
Hey, it worked for Katie Holmes. She professed a childhood crush on Tom Cruise in Seventeen in 2004 and within months Cruise was banging down her door. So allow us to take this opportunity to set off Cillian Murphy's Google Alert. 
"Cillian Murphy is so hot," I said.