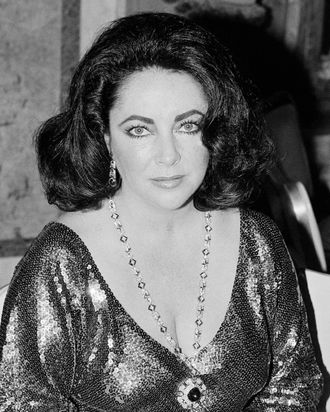 In retrospect, she looks a little hungry.
Photo: CRP/AP/Corbis
In 1960, when she was generally considered to be the most beautiful woman in the world, Elizabeth Taylor's daily diet consisted of the following: scrambled eggs, bacon, and a mimosa for breakfast. For lunch, hollowed-out French bread filled with peanut butter and bacon. For dinner, a veritable feast: fried chicken, peas, biscuits, gravy, mashed potatoes, corn bread, homemade potato chips, trifle, and a tumbler full of Jack Daniels. By the health-nut standards of modern starlets, that's more than decadent. It's Adephagian.
But like all great eras, Taylor's youthful eating habits came to an end. During her fifth marriage she ballooned to over 180 pounds—then dieted down to 122. (At one point she reached 118 pounds, but realizing she was losing her bust, "put on some flesh in a hurry!") In 1987, Taylor wrote a diet book called Elizabeth Takes Off. The book's cover has a picture of Liz staring off into space as if transfixed by a magnet. It became a national best seller, but is now out of print.
As a diehard fan both of diets and Liz Taylor, I was curious to test her eating plan. How could a woman who appreciated the best of everything—food, furs, men, diamonds—write a bad diet? She couldn't. Or so I thought.
Preparation
In the days leading up to my two-week diet, I start to read Elizabeth Takes Off.  "It's too easy to become fixated on calories," Liz writes breezily. I nod. "Too tempting to say to yourself, 'Umm… I can have 20 potato chips for 230 calories, or 6 oz. of chicken for 310 calories.' That's no way to lose weight." Math has always been a personal scourge, so this sounds good to me.  As I flip through the recipes, though, I become worried. Cottage cheese with sour cream? Steak with peanut butter on it? Dry toast every single morning? This sounds disgusting, but who am I to question Liz? She says she is "rarely hungry" on her diet. 
Though ostensibly a book about dieting, Elizabeth Takes Off also contains photographs and stories from Liz's personal life. She says that "quaint attitudes" caused her to marry so many times. "Basically I'm square." Me too, Elizabeth!
Day 1
Every breakfast on the Liz Taylor diet is the same: dry toast and a piece of fruit. Dry toast is a weird thing, I must say. Like a cracker with a strangely moist interior. This morning I can't deal with the toast, so I only eat the fruit. In an hour I am ravenous. Panic sets in as I realize this diet contains very little food. For dinner I prepare a fillet of swordfish using Liz's recipe, which is essentially to sprinkle lime juice on the swordfish and let nature take its course. It is extremely plain in taste. At the end of dinner, I am starving.
The one bright spot is that I am not compelled to exercise. Liz's feelings on physical fitness are ambivalent at best; one chapter of this book is titled, "Aerobic Exercise: Are They For You?" One exercise is to stand on your toes. 
Day 2
For dinner this evening, I am supposed cook a piece of steak, then sandwich it in peanut butter and bread. Despite being so hungry I could eat my hand, I cannot handle this concoction. I have three bites, then throw the rest out.
Elizabeth Takes Off advocates several mental dieting techniques, such as pinning a picture of yourself at your fattest on your fridge. Apparently Liz heard that Debbie Reynolds used a fat picture of her this way, after Liz stole Debbie's husband. (Eddie Fisher was Debbie's first husband and Liz's fourth.) "If you think this picture of me as Miss Lard will inspire you," Liz writes, "Go ahead and put it on your refrigerator, I have no objection." I refrain from tearing Liz's picture out of my book, but spend some time clicking through photos of myself on Facebook. They are all unflattering. The distraction helps a little.
Day 3
On the third day of the diet, I make one of Liz Taylor's famous dips. She recommends eating dip with raw vegetables every day at 3 p.m., so this afternoon I mash together sour cream, blue cheese, vinegar, and a shallot. I dip a piece of broccoli and the result tastes not bad, but does smell vaguely of rotten eggs, which makes me conspicuous in my office. Later I introduce myself to a colleague, casually holding a dipped piece of broccoli the whole time. Why didn't I put the broccoli down? Is the diet damaging my mind? This is nothing like the time Liz met her soon-to-be third husband Mike Todd on a yacht and he said to her, "Why honey, you're a latent intellectual."
In the evening I host a dinner party. Rather than subject my friends to the gastronomic cruelty that has become my personal Everest, I make tacos for my guests and Liz's ratatouille for myself. The recipe consists of vegetables boiled to a goop in tomato paste and eaten with a spoon. It is nothing like the French food in that Pixar movie.
For drinks, my guests and I have Liz's favorite cocktail, which she drank with Rock Hudson on the set of Giant. "The best drink I ever tasted," Liz writes, was a combination of Hershey's syrup, vodka, and Kahlua. Everyone at my party hates the drink, but I like it because it's the most logical flavor combination I've had in days. 
Day 4
Have now realized I LOVE dry toast. It's so delicious, why didn't I realize this before? This bread is the best thing I have eaten in days.
Days 5 – 7
Liz is a big believer in the "controlled pig-out," which is when you indulge your "wildest food fantasies" for just one meal. For example, she once ate a whole pizza followed by a hot fudge sundae. This, Liz writes, really helped her stay on the diet wagon.
For my controlled pig-out, I eat like the old Liz. I revel in fried chicken, with a peanut butter and bacon sandwich on the side. Afterwards, I am incredibly sick. I suspect my stomach shrank from lack of food.
Day 8
I'm supposed to eat fillet of sole for dinner, but I have a date with some friends. I force everyone to go an abandoned restaurant, the only place in the vicinity that serves sole. I am loudly derided for this, but can't blame my friends because I have flagrantly disobeyed one of Liz's cardinal rules: "When you are dieting, be discreet. You don't have to report to your acquaintances as though they were the commanding officers of your Great War Against Fat. Even your most supportive friends can become bored." Of course, this violates the purpose of a first-person diet article, so I may have to disregard it.
When I get home, I am so hungry that I make "minted new potatoes," a swampy mess of mint leaves and spuds. 
Days 9 – 11
I go on vacation to Cape Cod with my family. My mother says I look thin, but is grossed out by the dip I am eating. Every night my family eats something delicious like spaghetti and meatballs, and I eat something separate and disgusting like overcooked swordfish. I go to the beach and stare into the ocean, thinking about food and how much I miss it. This must be the opposite of how Taylor Swift feels when she is in Cape Cod.
Day 12 – 13
Sheer hunger drives me to combine cottage cheese and sour cream and pour it over fruit, as Liz recommends. (Previously I left out the sour cream.) It resembles curdled milk, and tastes similar. Absolutely repugnant. Never try it.
Stray observations: Plain veal is disgusting, a bit like the bottom of a shoe, pan-seared. Nutmeg on vegetables is problematic. Liz's attitude is wearing off on me, though. I find myself imitating Liz's style, as documented in the photo section of her book. In tighter clothes and bigger earrings, I contemplate marrying a hotelier or Shakespearean actor. I don't know where to go to meet them, though. Maybe an airport. 
Day 14
I make Liz's tuna salad, which combines tuna with tomato paste, grapefruit, scallions, and mayonnaise. Do the disparate flavors act like an experiment in molecular gastronomy? No, they do not. This is a flavor profile that would appeal to a cat.  
Day 15
I finish the diet! I jump on my mother's scale and find that I am six pounds lighter. I am also hungrier than I have ever been in my life.
I have also gained a new appreciation for Liz Taylor's irrepressible personality. Even as she describes the most disgusting meals imaginable in Elizabeth Takes Off, Liz is funny and self-deprecating, unapologetic about her marriages, and a total gossip about her extensive web of friends and her hatred of Louis B. Mayer. She is, in short, an excellent broad with really bad taste in food. 
At the end of one chapter in Elizabeth Takes Off, Liz describes a recent birthday party. As party favors, Liz gave each female guest a rhinestone reproduction of the Taylor-Burton diamond. "Camp, yes, but I loved it," Liz enthused. That is pretty much how I feel about her impractical diet.
Rebecca Harrington is the author of Penelope, a novel.