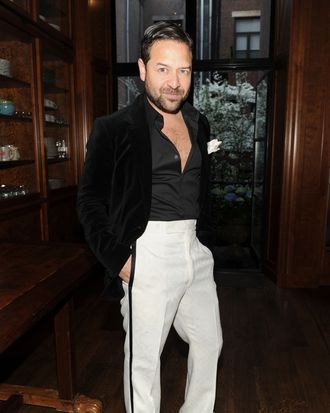 His name is Alvin Valley, and, as the Times writes, "a decade ago, he was selling as many as 40 pairs a day at stores like Kirna Zabête, but, alas, he overexpanded with sportswear and a lower-priced line, and wound up losing both his business and his name during the recession." Should've just stuck to pants, my man; however, as the Times also writes, the King is making a comeback. Private equity investor Alex Dulac purchased Valley's trademarks from the Moret Group in March, and alvinvalley.com should be up and running this week, selling 36 different styles of … pants, priced from $195.
Eric Wilson visited Valley in his garment district studio, where the designer:
… was focused on perfecting the fits for which he is known, using a construction technique that was inspired in part by Bridget Jones. Inside the waistband of each pair is a wide band of fabric cut on the bias to hold everything in place, like a built-in compression garment. (He submitted a patent application this week.)

"I wanted women to feel they could take their pants off in front of a date and not have to show their Spanx," he said.
So, he's the King of Fancy Pants, then.