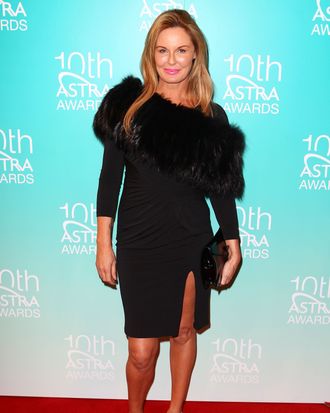 Photo: Don Arnold/WireImage
TV presenter, model, and delightfully caustic Australia's Next Top Model judge Charlotte Dawson is currently recovering in a Sydney hospital from a reported suicide attempt after relentless bullying by Twitter trolls. Dawson, also an ambassador for an Australian anti-bullying foundation, began receiving hate tweets — and lots of them — earlier this month when she called her home country of New Zealand "small, nasty, and vindictive."
Dawson retweeted a lot of the mean messages, and many of her non-troll followers defended her, but her supporters became targets, too. This Tuesday, Dawson identified one particular vicious troll baiting both her and her followers as an employee at a university in Melbourne and reported the offensive tweets back to the user's employers. The school placed the troll back under her bridge on leave while investigating the matter.
Unfortunately, this only served to rile up Dawson's other haters further. In a period of less than 24 hours, she received hundreds of sick missives all urging her to kill herself — and retweeted them all, too. (Jezebel's Jenna Sauers notes the references to known "troll armies" in many of the tweets.) Dawson's retweets stopped early Wednesday morning, and she posted two short tweets of her own: "Hope this ends the misery," and, "You win x."
Emergency services were called to her house soon after, taking her to a hospital psychiatric ward where she's remained under observation. Australian journalist Jo Thornely has since released a message from Dawson — also via Twitter — thanking her fans for their support; Dawson is also reported to have filmed an interview discussing her ordeal, which will air down under over the weekend.