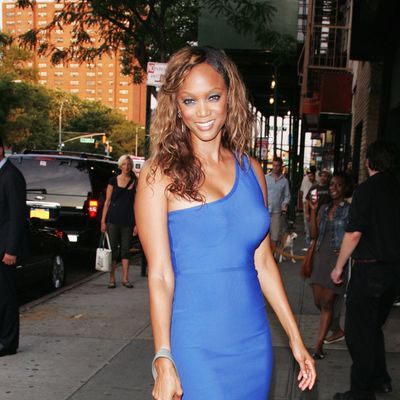 Photo: Jim Spellman/WireImage
At last night's America's Next Top Model premiere party at the Tribeca Grand, Tyra Banks posed for photos with her fellow judges in a large bed. "It's our Fierce Friday Foursome theme. The audience is the fourth judge. Get it? Foursome, get in the bed with Tyra and the judges!" Tyra explained. She was referring to this season's new format, which gives audience members 25 percent of the vote to choose which models will advance to the next episode (the three other judges — Tyra, Rob Evans, and Kelly Cutrone each get a respective 25 percent as well). Also new this season: a fresh Tyra-ism, "booty-tooch," which she demonstrated with Jimmy Fallon earlier this week. 
Given Tyra's storied history with word generation, we decided to see how well she could make up some words on the spot. See her impressive results:
First off, can you explain "booty-tooch"?
So, booty-tooching is when you're standing and isolate your hips. There's different types of tooches. There's hoochie-tooch, which is a bit too urban. There's a poochy-tooch, where you're sticking out your stomach — not a good look. And a smoochie-tooch, which is like duck lips, also not a good look. The best one is a Gucci-tooch, which is where you pop your butt out a little bit but make it high fashion by hunching your shoulders forward.
So let's play a game. I'll give you a phrase, and you Tyra-ize it. 
Great!
A horrible dorm mate?
A cray-mate.
Having both beauty and brains?
Breautiful.
Smiling with your hands — no one wants to see limp hands in a photo, right?
Yeah, no one likes that. Spalms — like smiling palms. Smands is too obvious.
An overly airbrushed picture.
Whooshed.
Getting caught in a naked photo scandal a la Prince Harry?
Nope.
There's no word for that?
Nope.
Okay, last one: an overly-used pose?
Moodled. Like a model and poodle — like, it's been done.