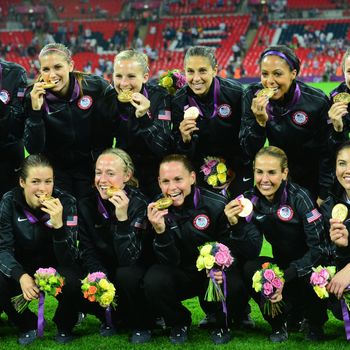 Photo: MARTIN BERNETTI/AFP/GettyImages
If it felt like Gabby, Missy, and Misty got more than their share of airtime at the London Olympics, keep in mind that it wasn't just because their skimpy uniforms are so telegenic. American women performed better at the 2012 Olympic games than most countries — and their male teammates.
If American women were their own country (oh, rapture unforeseen), they would have come in fifth overall, after the U.S., China, Great Britain, and Russia, according to data compiled by Mother Jones. The London Olympics were the first time the U.S. sent more women to the games than men (268 to 255), and 30 percent of them medaled, compared to 15 percent of men.
When it comes to international competition, it pays to invest in one's countrywomen. Mother Jones's data show that the number of female medalists spiked after Title IX — the amendment prohibiting gender discrimination in athletics and other education programs — was passed 40 years ago this June. It was also the first year that all countries sent at least one female.