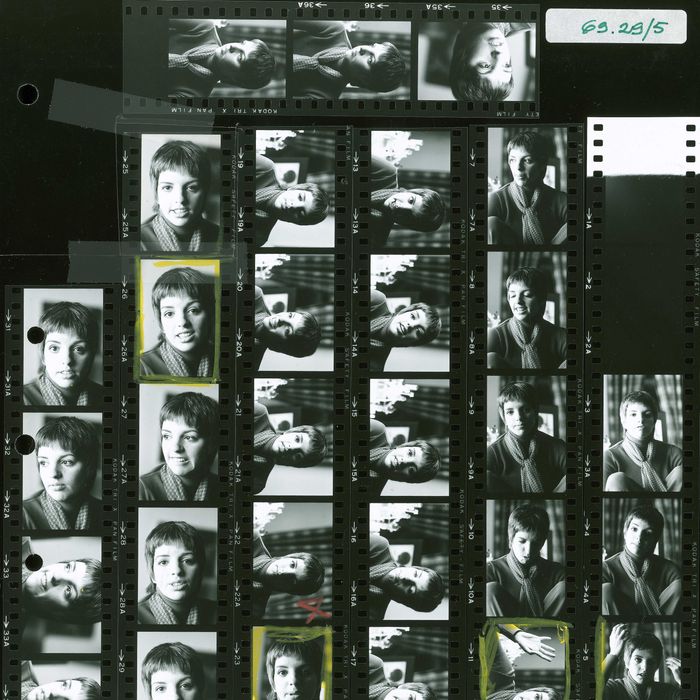 Photo: Burt Glinn/Magnum Photos
The latest installment in our weekly series of vintage contact sheets, featuring never-before-published images from the Magnum archives.
The offspring of Vincente Minnelli and Judy Garland, Liza grew up in front of the camera, landing her first film role (albeit uncredited) in In the Good Old Summertime at age 3. She quickly became the Queen of Broadway, winning the Tony Award for Lead Actress in 1965, after starring in Flora the Red Menace — making her the youngest woman to ever claim the title. Liza went on to conquer Hollywood (think Cabaret, Arthur, and, of course, Arrested Development) and the music industry, releasing multiple albums and singing live. She's also among the few EGOTs, adding an Emmy, a Grammy, an Oscar, and four Tonys to her mantle during her decades-long career. But perhaps most fascinating: her hair has pretty much stayed the same throughout it all. See her here in 1969 (that's 23 years old) in her apartment on East 57th Street as photographed by Burt Glinn. Click on the image to enlarge, then zoom around to get the full Liza experience.