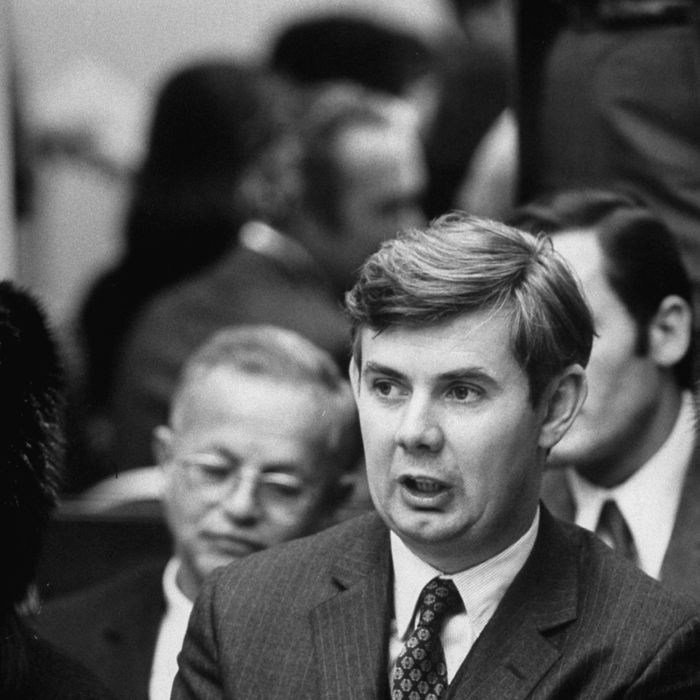 John Fairchild, in 1967.
Photo: Bob Peterson/Time Life Pictures/Getty Images
W magazine will have you know that their relations with founding editor John Fairchild are not strained, as a recent Vanity Fair profile implied. As we noted last week, VF's Fairchild profile reported that current W editor Stefano Tonchi abruptly axed Fairchild's monthly backpage column and canceled his long-standing complimentary subscription when Tonchi took over the magazine in 2010. Fairchild told Vanity Fair that his "feelings were hurt" by Tonchi's actions:
Fairchild is still angry. "No one called me," he says. "They just cut [the column] off. I loved doing it."
But a rep from W reached out to us last week to explain that there really isn't any beef between them — anymore, at least — and all is well between the old and new guards.
"The real story is that Stefano and John have a very good relationship," the representative told us. To prove his goodwill toward Tonchi's W, Fairchild has written the foreword to the publication's forthcoming coffee-table book, W: The First 40 Years, which comes out in time for the magazine's anniversary in November. Although Fairchild won't attend the book party, as it will take place in L.A. and he lives in Switzerland, he is "contributing to our anniversary in a major way," says W's rep.
Fairchild withdrew from his rancorous life in New York in 1997 and now lives abroad with his wife, only returning to the U.S. occasionally to see his children and grandkids. But, as someone who made his name as a notoriously cheeky upstart in the New York fashion scene, he obviously still has some juicy stories from his heyday. In his foreword, he recalls getting wasted with Coco Chanel, driving around in Valentino's bright-red limo, and pissing off his publication's advertisers (a man after our own hearts!). W has given us an exclusive first look at it, below.
Starting a brand-new publication is a joyous experience — especially if the concept is about how to enjoy the good things in life. The idea for W from the beginning was to talk about fine living, which today sounds like a dumb phrase. But in the final analysis, all we are ever interested in as people is how others live, what they eat, what they wear, and how they get their kicks. It all boils down to the humanity of work and fun.

We set out to give readers something entirely different — in order to hook them. W was bigger — in the early years, newspaper-size, which one of the first advertisers, Charles Revson, said he loved because the ads "were like a poster" — and it was faster, initially appearing every two weeks rather than monthly, like most fashion magazines. This meant we could be first with the scoop, because there is no such thing as a fashion secret. Who wants to read something everyone else has already covered?

So W invented the In and Out list, which readers loved, even if advertisers didn't. We captured people rarely seen in photographs — like Greta Garbo, in front of a New York fire station — and brought the Seventh Avenue designers out from the backrooms of the Garment District and into the spotlight, sometimes photographing them in the bathtub.

In Paris we would watch Yves Saint Laurent piece together his collection. I remember having dinner with Coco Chanel in her studio on rue Cambon and listening to the machine gun bullets she fired at every other designer. The meal started with Dom Pérignon and continued with various Rothschild wines, until she announced, "Mon cher ami, don't be frightened about everything we have had to drink because I will give you a little blue pill which cures you of everything." After taking the pill, we fell asleep on her beige suede couch. I woke up, walked her to the Ritz, and left her in the hands of her nurse. The next day, we felt fine — and I never did determine what was in that little blue pill.

Then there was the time we were in Rome with Valentino at the height of the Red Brigade terrorist kidnappings. Sitting in his Mercedes-Benz limousine, he said, "You know, I have to be very careful, because I might be kidnapped." When we got out, we realized the limo was in his signature color: bright Valentino red. So much for a fashion designer being low-key.

Not everything went smoothly, of course. We photographed many designers' collections before they were on the runways, which caused us to be threatened with a lawsuit by the French "economic police" because we ignored the official release date for showing couture clothes. (All the other fashion editors had already seen them but hadn't published anything.) Part of the problem was that the French thought we'd insulted their country because in order to illustrate Dior's new silhouette we stuck a toothpaste tube into a brioche. The French thought it was a Vaseline tube and didn't find it amusing.

We tried lots of different things like that. Sometimes we succeeded, and sometimes we missed. But we always had fun—another key part of living.

The idea always was to tell the reader about the best and the latest — and the secret places they were dying to know about before everyone else did. George Herbert may have said, "Living well is the best revenge," but that's not quite true. It is simply part of the joy of life — and W aimed to capture it.