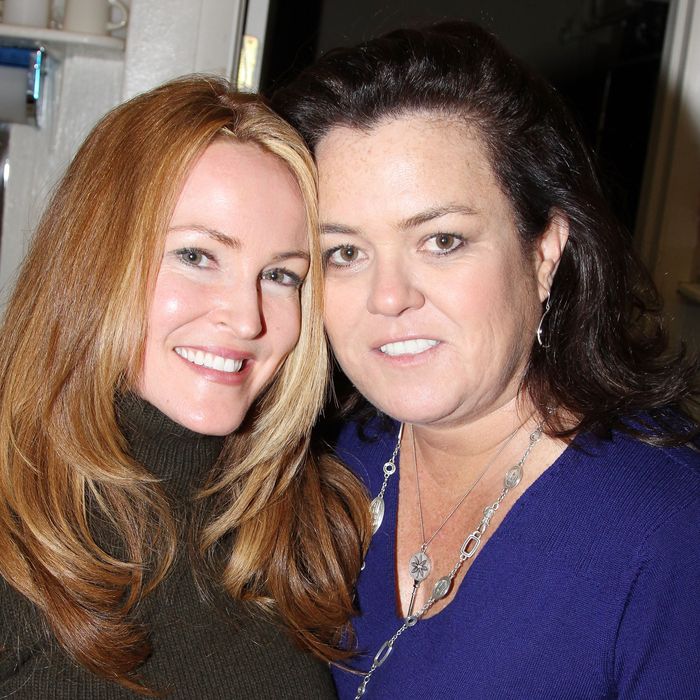 Photo: Bruce Glikas/FilmMagic
Rosie O'Donnell took to her blog to clear up the confusion about when exactly she and wife Michelle Rounds got hitched. As her rep confirmed to People, O'Donnell and Rounds were supposed to marry this month but, when Rounds was diagnosed with Desmoid tumors, the couple privately wed June 9, shortly before her surgery. It was probably for the best. O'Donnell's recent heart attack coincidentally occurred on the original wedding date, she explains in verse. 
From her poem, "art 4 sale":
my wife michelle
was diagnosed with desmoid tumors in june
a mysterious rare – too often fatal disease
that affects 3 in a million people

we were to wed 10 days ago
but her illness forced us to postpone the wedding
luckily -
as i was in ICU that day

when it rains …
things grow
like love and flowers
humans too

so on we go
we married in private
before her surgery
just the 2 of us

when we r both well enough
will have the wedding of r dreams
surrounded by those we cherish
thankful for the love and support
so many have given us
during these trying times

including all of u
stranger-friends
connected thru invisible strands
of wi fi
I studied poetry in college, and I'm pretty sure that last stanza means that she's going to Livestream and/or Skype us in. Oh and the poem is called "art 4 sale" because in earlier stanzas she says that she's been painting a lot since her heart attack, and will be selling the work for charity. With links to buy her art on ebay, "art 4 sale" is the world's first known click-to-buy poem. O'Donnell, who frequently blogs in verse, has previously written about her heart attack, the death of Nora Ephron, and Lindsay Lohan.