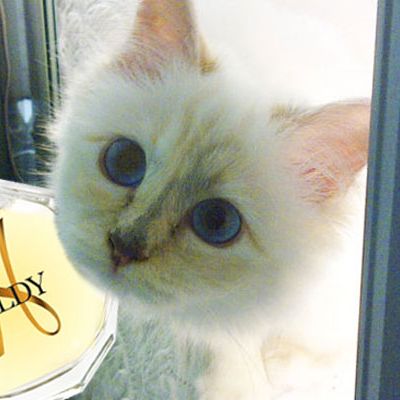 Elements Showcase is every perfume fanatic's fantasy. It's two days of sniffing your way through hundreds of niche, indie fragrances (you won't find Taylor Swift's various levels of being Wonderstruck here), meeting the designers behind the brands (you can drill them on where they sourced their oude or ask what the hell it even is), and taking home as many samples as your nose can handle. Bringing your own stash of coffee beans probably wouldn't hurt. This perfume-palooza (which starts today in New York) is the brainchild of three fragrance-obsessed men: Frederick Bouchardy (founder of Joya fragrances), Ulrich Lang (ex-L'Oreal exec and founder of his eponymous fragrance line), and Jeff Lawson (large-events consultant). The trio took the time out from their busy schedules to talk to the Cut and put their overwhelming scent knowledge to use in our  first fictitious-fragrance-guide: Read on to find out what scents suit Choupette Lagerfeld or Suri Cruise. Or  in more practical terms the best ones to wear on day three of not washing your hair.
1. Best worn on a day you plan on going to a Botox appointment you didn't tell your friends about: "Silences" by Jacomo ($29.92, Amazon).
"If you are hiding things from your friends, stay cool with a fragrance that whispers, not screams—or maybe barely says anything at all."
2. Best worn to the wedding of your best friend's cat to her neighbor's cat:  "L'Humaniste" by Frapin ($155, Lucky Scent).
"At a cat-only event, someone has to assert her humanity."
3. Best worn on day 5 of New York Fashion Week:"Eternity" by Calvin Klein ($57, Sephora).
"Fashion Week seems to go on 24/7 here now."
4. Best worn on day 3 of not washing your hair: "Black Afghano" by Nasomatto ($185, Barney's).
"Unwashed hair kind of looks the best, and so does this jet black and deeply dark parfum."
5. Most likely worn by Katie Holmes on the day she divorced Tom Cruise:  "Ange ou Demon le Secret" by Givenchy ($77, Sephora) or "Joy" by Jean Patou ($110, Nordstrom).
"Wouldn't want to even try to get inside Katie's head here but guessing she was feeling pretty good, if not pretty confused. The whole thing was and is confusing."
6. Most likely worn by Suri Cruise: "Goldy" by Hayari ($105, Hayari) or Reb'l Fleur by Rihanna ($19.99, Target).
"Suri has the aura of a sophisticated little lady with the touch of a ruffian. Can't choose between these two perfumes. Maybe one for day and one for night."
7.  Best worn as a couple for Kim Kardashian and Kanye:  Unisex, sexy, almost religious Ames Soeurs by Joya ($28, Joya Studio) or androgynous, expensive-smelling "Nightscape" by Ulrich Lang New York ($110, Lucky Scent).
"Two very different takes on unisex and decadent animal magnetism designed by two of the Elements Showcase co-founders themselves."
8. Most likely worn by Choupette: "Aoud Purple Rose" by Montale Paris ($110, Amazon).
"A signature, statement and very French scent for the pretty kitty."
9. Most likely worn by Liberty Ross the day after the scandal about Kristen Stewart broke: "Scent of Departure" by London ($45, Shen Beauty).
"Nothing else to say."
Bonus section: Political candles! ("We think politicians might need some candles to relax before the campaign is in full force.")
The Obamas: "Suede & Smoke" scented candle by Delirium ($38, Candle Delirium).
"A smoky scented candle would make the White House feel like a White Home."
Paul Ryan: "Ernesto" by Cire Trudon ($85, Barney's).
"Paul Ryan is interesting on paper, but his earnestness is surprising and strange when he speaks (read: weeps)."