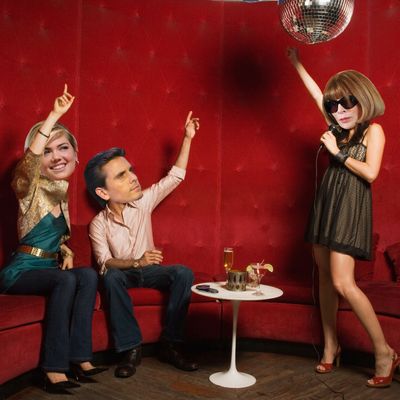 Photo: James Carman/Corbis, Getty Images
Anna is up to her old tricks! Fashion's Night Out is back (again!) and though you've probably already brushed shoulders with the Olsens, karaoked with Oscar de la Renta, and smack-talked with Real Housewives on this momentous evening before (a.k.a. spent four consecutive years waiting in line to get a glass of Champagne before seeing a glimpse of some celebrity's hair), you have another chance to experience the magic this Thursday. To help you decide how to best spend your evening, we've picked out some of the best, weirdest, and most free-drinks-offering spots to spend Fashion's Night Out.
B.Bronz at the Spa Merge at the Hilton: Get a spray tan with Miss North Dakota! Why? Because when else will you have the chance to get tanning advice from one of the world's leading experts … after the cast of Jersey Shore.
Bergdorf Goodman: Make a memory that will live on for all time — literally, forever, on the Internet! With photographers and photo booths all around, there's ample opportunity to take a regrettable photo that will be live-streamed on Tumblr. 
Rebecca Minkoff at Saks Fifth Avenue: Get your hair did at Rebecca Minkoff's FNO event. They're offering a ponytail bar, smokey eye station, and nail art spot where they're doing everything from "studded tips to woven patterns to reverse French manis." 
Calypso St. Barth: Free Champagne! Free Champagne! And lots of locations, so that means lots of free Champagne!
alice + olivia: Pretend that you never even made the decision to go out on a Thursday night and veg out at alice + olivia's slumber-party-style event. Movie marathons, sugary snacks, and an eighties dance party almost makes abandoning our PJs on a weeknight worth it. There's also a pillow fight at the meatpacking location, so maybe your boyfriend will want to come too.
Macy's: Stop by Macy's to roll cigars with Keeping Up With the Kardashians' Scott Disick. Oh, and Kim will be down the street at Lord & Taylor.
Victoria's Secret: After you're a few (many) drinks in, embrace your inner Angel and get your photo taken with Alessandra Ambrosio … because there are really no other circumstances under which you'll think it's a good idea to take a picture next to a Victoria Secret model. You can cry laugh about the photo in the morning.
Michael Kors: The designer is holding some kind of American Idol search for the next YouTube Justin Bieber karaoke contest, with Kate Upton as a judge. Who wouldn't want to see what happens when you spontaneously break out your best Cat Daddy in front of a top model?