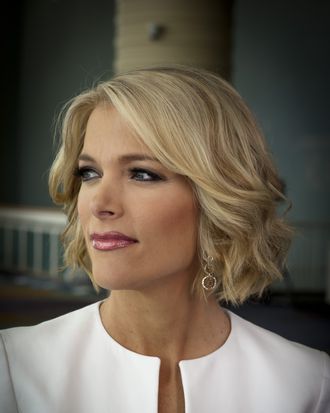 Photo: Charles Ommanney/Getty Images
If it seems like Fox News is more aggressive with the lip liner and the curling iron on its female anchors and guests than rival networks, that may be because makeup has a "unique role in [Fox News CEO Roger] Ailes's creation myth," according to an article in this month's Atlantic.
As an executive producer of The Mike Douglas Show, Ailes reportedly convinced Richard Nixon to embrace television and makeup again after his embarrassing loss to John F. Kennedy in 1960, attributed in part to bad pancake makeup in a televised debate. Combine that personal history with Ailes's background as a Broadway producer and you've got the signature look of Fox News anchors, "who are often outfitted in body-hugging dresses of vibrant red and turquoise, their eyes enhanced by not only liner and shadow but also false lashes." 
It sounds like overkill, considering cable news happens on a high-definition plasma screen, not a far-off stage, but writer Liza Mundy points out that the network's demographics skew old. Maybe Fox viewers can't even see them unless they're outlined like cartoon characters.