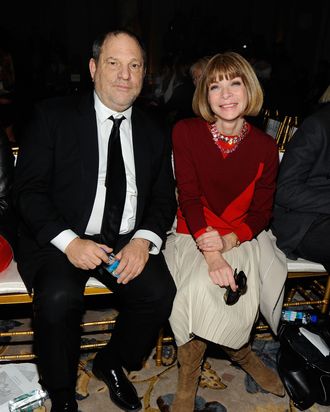 Co-hosts Harvey and Anna.
Photo: Rabbani and Solimene Photography/Getty Images
Last night was Anna Wintour's latest fund-raising dinner for Obama, which she co-hosted with Aaron Sorkin, Anne Hathaway, and Joanne Woodward at the Westport, Connecticut, home of Harvey Weinstein and his wife, Marchesa designer Georgina Chapman. Although details of the event are scant and no photos are available (it's a bit harder to stalk celebrities on private property in the suburbs than it is in Manhattan's West Village), we do know that the 60-guest dinner cost $35,800 per head. According to Bloomberg Businessweek, Weinstein introduced the president by saying that he "led with his heart to do the right thing" and "fought the good fight." Obama then made some remarks of his own, although only the following quotes were released to the media: "On a whole host of issues, you've got very stark differences … The good news is that you guys are the tie-breaker. You and the American people." The president then hopefully enjoyed a nice meal and, if all went according to our plan, got to watch Chapman's dogs romp about in the yard wearing Bark for Obama outfits.