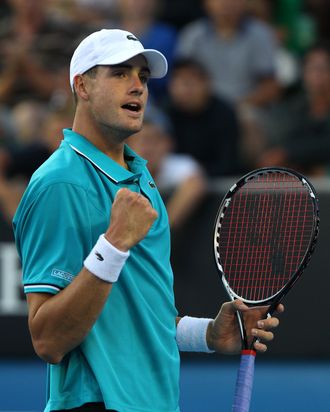 Photo: Mark Dadswell/Getty Images
Vogue.com caught up with John Isner, the 27-year-old tennis player who won the longest-lasting match in the game's history at Wimbledon in 2010 (his photo and a short article also appear in the magazine's 8,763-page September issue). He talked about being a late bloomer, unwinding after tournaments, and fund-raising for Haiti's earthquake victims. There's also this exchange:
You're known for being fairly intense on court.
I think I'm a good competitor. But off the court, I'm goofy, I'm the complete opposite. I've played some pretty cool pranks on people before. [Fellow tennis player] James Blake knows how to get into my house when I'm gone, so he'll go and fill up my DVR with Spanish shows.

How did you get him back?
I let the air out of the tires of his golf cart, so when he's driving down to the course, he only gets halfway there. Stuff like that. I can be immature — I think it's healthy.
We think it's healthy, too. And tall, and pretty dreamy with diamond-less dental hygiene. But, yeah … healthy! U.S.A.!