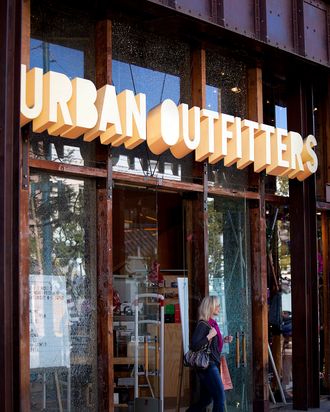 Scary.
Photo: Konrad Fiedler/Bloomberg via Getty Images
Remember the great Bedbug Summer of 2010? When everyone in New York City was terrified of contracting vermin from places that were previously considered safe, like movie theaters, fashion magazine offices, and Abercrombie & Fitch? The epidemic has died down since then — not that you shouldn't still give mysterious furniture a wide berth and freak out when you find strange bites. Therefore, it's perplexing that the Urban Outfitters store in the Flatiron district hasn't addressed what sounds like a serious bedbug problem.
Jezebel reports that the store had its first bedbug complaint in March, followed by two employees confirming infestations in their homes. Meanwhile, "a dozen associates have reported telltale bites." There's more:
A store representative told us that they could "neither confirm or deny" whether they had bed bugs in the store, but we've seen multiple memos confirming that employees of Urban Outfitters' Flatiron District location have been asking higher-ups to do something about the store's bed bugs for months.
We have to wrap up this post because we're getting phantom itches everywhere, but moral of the story: Launder your new clothes, no matter where you purchase them.
Update: Urban Outfitters has issued the following response.
Urban Outfitters Hates Bed Bugs

Urban Outfitters is super vigilant about making sure our stores are bed bug-free, especially in areas like New York, where bed bugs are unfortunately an issue for everyone who lives, works, or runs a business. We take the safety and health of our employees and customers very seriously.

We employ a third-party exterminator to test for bed bugs at all our retail locations in Manhattan, Queens, and Brooklyn on a monthly basis. We've had our 14th St. and 6th Ave. location inspected by exterminators and certified bed-bug sniffing dogs every month since September 2010, and twice a month since March of this year. In July, two isolated bed bug-related incidents occurred in employee-only areas of this store, and so we immediately implemented the treatment protocol recommended to us by our third-party exterminator.

Since this treatment, we've had multiple follow-up inspections, and have found no presence of bed bugs or bed bug activity. We hate bed bugs as much as everyone else and will continue to be proactive in keeping them out of our stores.