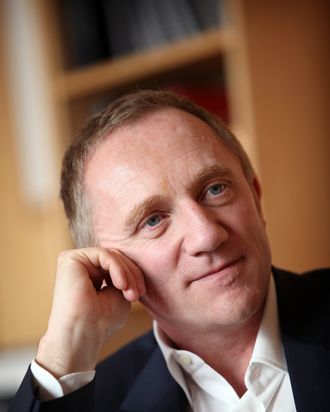 "I heard if you hold ALT and F4, you see a neat picture."
Photo: Simon Dawson/Bloomberg via Getty Images
The two companies just created a joint venture (51 percent of which is owned by PPR and 49 percent by Yoox), which "will be entirely dedicated to managing mono-brand online stores in collaboration with several PPR luxury brands: Bottega Veneta, Yves Saint Laurent, Alexander McQueen, Balenciaga and Sergio Rossi," according to a press release. Bottega Veneta's and Sergio Rossi's online stores should be up and running by the end of December, and the rest are set to launch next year. As for those PPR brands not on the list, they might be included in the project at a later date.
François-Henri Pinault, chairman and CEO of PPR, said:
E-business is a strategic priority for the Group … This joint-venture will allow PPR to generate synergies and shared resources available to our brands through best-in-class e-commerce expertise. And with this strategic partnership with YOOX Group, we invest in key skills essential to grow our business in the future.
Yada, yada, yada. Welcome to 2k12! Now, let's do some shop-ping.