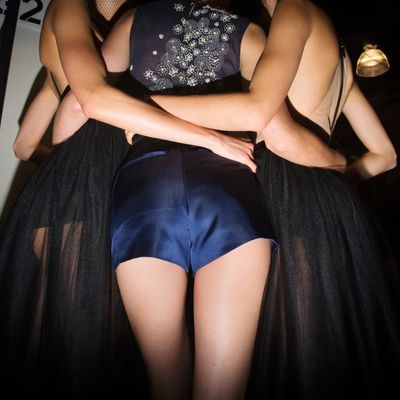 Between all the runway shows, street-style galleries, parties, and interviews at Fashion Week, it can be hard to filter out the noise. So now that the weekend is over and shows are at the halfway mark, we've combed through The Cut's 24-hour feed to bring you the best moments from spring 2013 so far. Read on to catch up and get excited for all the coverage still to come in the next five days and on into London, Milan, and Paris.
1. The jock-fashion crossover is now an established part of Fashion Week. Aside from the usual crew of basketball players with (Amar'e Stoudemire) or without (Russell Westbrook and Chris Bosh) clothing lines, various Olympians are making the rounds, headlined by Ryan Lochte (who has been the subject of unvarnished, panting lust), Nathan Adrian (The Cut's new crush), and Sanya Richards-Ross.
2. Another Fashion Week tradition: a "classic" model returns to the runways. This season it's Naomi Campbell, who had the crowd gasping when she walked Zac Posen alongside a collection of model star power that will be tough to top this week: Coco Rocha, Karolina Kurkova, Alex Wek, Liya Kebede, Crystal Renn, and Hilary Rhoda. Carolyn Murphy came back for Jason Wu, too.
3. Tout fashion was at Carine Roitfeld's classy launch party for her new magazine at the Frick last night. See the pictures here, and watch The Cut's exclusive video interview with Roitfeld to hear about the unique format of CR Fashion Book.
4. The Cut's new runway galleries are pretty swanky. Check out our report cards for every major show, featuring editors' favorite looks, trends, color palettes, and more. Then get a 360-degree view on each collection with front row photos, video, beauty looks, details, and, for the first time, back shots. 
5. Don't forget: You can zoom on most Cut photos now. Take a look at our daily Zoomshots, which present looks that really benefit from a close-up view.
6. Intriguing sightings so far: Liberty Ross, continuing her post-l'affaire-Stewart tour by walking Wang; David Beckham generating shrieks and screams at Y-3; the crowd losing it for Lauren Conrad like The Hills is still on; and Lena Dunham's chic new crop.
7. As for how good the shows are this season, we're still waiting for many reviews to come in, but Joseph Altuzarra's reinvention of the denim jacket and Alexander Wang's sexy, seductive collection were early hits with Cut critic Lynn Yaeger.
8. More early runway highlights: Thakoon's super-feminine prints; Derek Lam's sweatshirt tops and sparkly embellishments; Prabal's sportswear; Jason Wu's super-cosmos outer space gown; Peter Som and Earnest Sewn's printed shirt collaboration; and Google Glasses at DVF!
9. Fashion's Night Out is an international phenomenon now, and so is the Cut's coverage of it. See pictures from the mayhem in New York, Paris, London, and L.A.
10. Alexander Wang's party is always a highlight of New York. This year featured a very on-trend bank-robbing theme and music from South African rave rappers Die Antwoord.
11. Ever wondered what the model's-eye view is like? The Cut strapped a video camera onto the head of a model at Rachel Comey so you can see what it's like to be a six-footer walking the runway.
12. Cut photographer Dina Litovsky has been roaming the tents all week in search of gorgeous images. Some favorites: emerging from the mist at Prabal; lipstick-smeared Jason Wu; and what are these models watching?
13. Of course, there's also the show around the tents, captured by Cut photographer Youngjun Koo. Favorite street-style moments so far: black leather, pink hair; Susie Lau's shoes; this chain lock necklace; gun bag; and of course Kate, Anna, Shala, Grace, Taylor, etc.
14. The street-style photographers themselves dress pretty well these days. 
15. The Cut doesn't just send photographers to the shows; we've got fashion illustrators, too. You'll want to look at Samantha Han's beautiful watercolors from backstage at Wang, Leger, and Tess Giberson.  
16. Trend-spotting: So far, we see shorts getting longer; harnesses dominating; brocade in light colors; and lots of scrolls and S-curves.  
17. The Cut talks to the designers: Watch video interviews with Derek Lam, Prabal Gurung, Jason Wu, and Billy Reid.
18. Cut beauty editor Christina Han is working backstage this Fashion Week. Watch her try her hand at makeup and styling hair, and check out her Beautygrams.
19. People continue to make faces in the Cut Photobooth at MADE. Join them!
20. Looking at all these clothes makes us want to shop. Here's what you'll really want to wear to Fashion Week, and everything you need to keep your bag organized, but still chic.
21. Nick Gruber and Peter Brant II sing karaoke. No words.