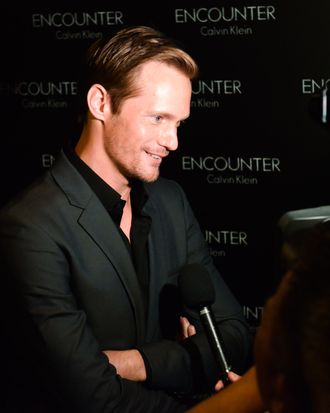 Photo: Madison McGaw/BFAnyc.com/Courtesy of Calvin Klein
Last night on the roof of Manhattan's Skylight at the McKittrick Hotel, Calvin Klein hosted a party in honor of steamy vampire sheriff Alexander Skarsgård, the face of the brand's new men's scent, Encounter. Though the fragrance hit shelves earlier this month, the brand didn't have a chance to officially honor the Swedish actor until now owing to his busy movie-star schedule. As waiters passed pork meatballs (and a ghostly looking grandma weaved through the crowd — we guessed she was part of the Sleep No More troupe), Skarsgård took a moment to talk about his favorite smells, which are found only in Sweden, his home country.
What's your favorite smell?
That would be the smell of my family's country house in southern Sweden where I spent every summer as a kid. It's an old wooden house from the twenties that my dad's father built. It has that moldy smell and my grandfather's cigar lingering on the walls.
What smell reminds you most of your childhood?
There was a sausage factory where I grew up in south Stockholm. It's a very trendy neighborhood now, but then it was working class. A block away from our apartment building there was this sausage factory, and every morning when I went to school, I would smell the sausages. And it's not like a nice smelling chorizo, it's a nasty, pretty foul smell.
What smell makes you the happiest?
Fall in Stockholm around this time of year is great. If you go back there in October, the air is so clean and crisp. I miss that.