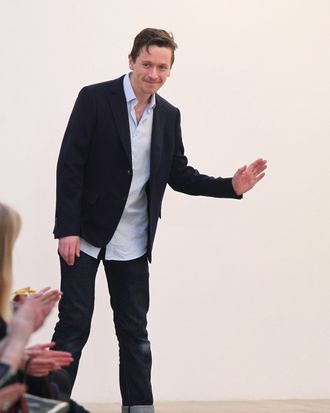 Alistair Carr.
Photo: Antonio de Moraes Barros Filho/WireImage
When Alistair Carr left Pringle of Scotland back in April, everyone assumed he'd been let go because of the label's lagging sales figures. (Both parties called the departure "a mutual decision," and everyone knows what that means.) But now it seems like Carr has wound up on the winning end of the deal: just as Pringle's latest collection, designed by its in-house team, walked in London today, he was tapped to helm McQ, Alexander McQueen's diffusion line, according to the Telegraph. The announcement also coincided with the opening of McQ's very first boutique on Dover Street in London.* 
McQueen regained control over McQ in late 2010 and swiftly set about revamping the brand, whose reputation had floundered under its previous license-holder, SINV SpA. The first few collections were designed by former creative director Pina Ferlisi with Sarah Burton's leadership, and the label mounted its first runway show — complete with disco lights and fallen leaves — at London Fashion Week last February. Carr's first designs will be shown in the label's pre-fall collection.
Related:
Check Out the First Video for Alexander McQueen's Revamped McQ Collection 
McQueen's Revamped McQ Collection Will Be 25 Percent Cheaper Than Before 
* This post has been updated to note the opening of McQ's new store.