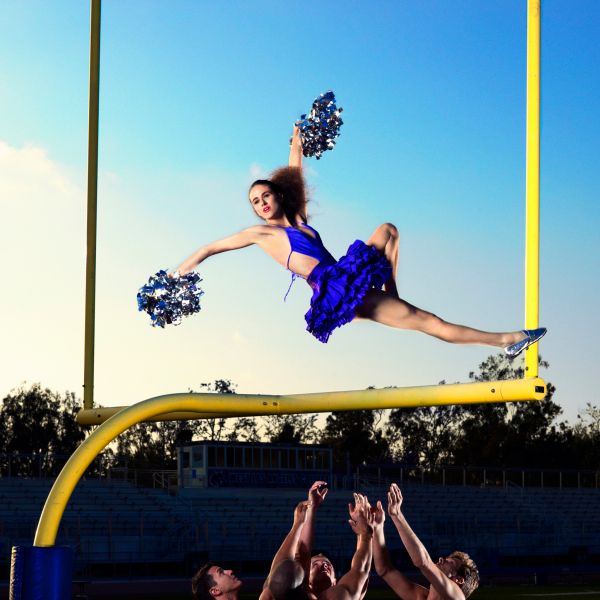 Photo: Sarah Silver/?2012 Pottle Productions Inc. All Rights Reserved.
Now it's officially a Top Model season: We've had our first declaration of, "I'm not here to make friends!" It occurs in the most mundane way possible (something about the Tyra Suite and jealousy and who's obsessed with other girls in the house versus who's self-obsessed). Still, a milestone has been reached. With that out of the way, could we get some more footage of Victoria crying on the phone with her mom, please?
This week's challenge kicks off with Tyra and Alicia Keys sneaking around the house and waking up all the girls. Victoria pops out of bed fully dressed and made up (let's be honest, that's how every contestant on every reality show should always sleep). The girls generally freak out, and then Laura bursts into ugly tears, which would be embarrassing, but it's followed by Kiara bursting into an awkward, improvised-on-the-spot song about how excited she is to meet Alicia Keys. Alicia explains that the girls will be walking in a charity fashion show to benefit her charity Keep a Child Alive. To practice, Tyra and Alicia have the girls do an impromptu runway show and assign each girl a song of Alicia's as the inspiration for her walk. Surprisingly, the Alicia Keys catalogue really lends itself to this: "Superwoman," "Empire State of Mind," etc.
Tyra tells the girls they'll be responsible for figuring out hair, makeup, and styling for the fashion show; since Laura was the winner of last week's photo shoot, she's in charge of making executive decisions and delegating responsibilities. This responsibility scares Laura, since she's never even walked in a runway show before, but that's something that I like about this challenge: It's asking the girls to apply a skill that could be useful for them outside the context of Top Model.
Unfortunately for the girls, Mara Hoffman, whose designs they'll be modeling, has been a client of Kelly Cutrone's for ten years. Kelly's not at all pleased when the girls show up to get ready for the show and all they have planned is "some girls should have their hair up, probably?" Still, with Kelly and Johnny's help, the actual runway show goes well and raises a good chunk of money for Alicia's charity, a really worthy cause.
This week's photo shoot requires the girls to be "a sassy fashion cheerleader with a Top Model spin" as they pose midair after being thrown up by a group of male cheerleaders. Over and over, the girls are told that the shoot is perfectly safe, but that's not exactly true — cheerleading stunts are safe when the position of the girl in the air and the way she'll land is predictable, and all it takes for a girl (or one of her spotters) to get hurt is a limb at an odd angle. Laura has the most trouble — she's afraid of heights and almost cries off her pink eyeliner — but Yvonne also struggles to produce a single frame without her legs kicked open. Kristin — whom everyone still hates — benefits from her six years of cheerleading experience and has a fairly effortless shoot, but while Leila looks great in the air, all of Johnny's efforts to get her to stop making duck faces totally fail.
At judges' panel (where some of the girls are sporting matching multi-colored manicures, adorably enough), Victoria is the first up for judging and the first recipient of a Cutrone zinger when Kelly tells her that she looks like an old man about to take a nap on a bed. When looking at Kiara's photo, Rob wistfully pointed out that there's nothing sadder than a beautiful bird that can't fly, and there was discussion about how Brittany is "too Disney" but could maybe try to be "Disney Sexy." (It made even less sense as the judges were debating it.)
Nastasia wins the week and is called out first; shockingly, Leila, who was an early favorite of the judges and the fans, is sent home. Her pictures were consistently strong, as was her support from online voters. Her downfall was that this cycle, the challenges (almost always runway shows or acting exercises) are a quantifiable part of each girl's overall score. It's a good change in the rules of the show, ultimately, but it's sad to see it affect someone as promising as Leila. Even Bryanboy's sad and has to surreptitiously wipe some tears on the shoulder of his floral blazer.
Next week, the girls run around in top hats and TRON-style virtual-reality suits, but not at the same time.