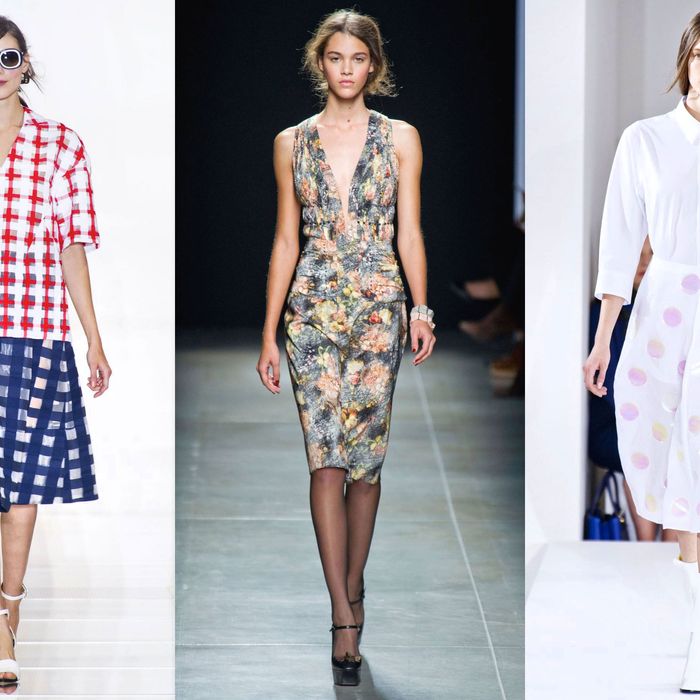 From left: Marni, Dolce & Gabbana, and Jil Sander.
Photo: Imaxtree
Saturday 
9 a.m.: Eating my breakfast in the lobby as the Brazilians roll in from their night out. They do some girl swapping in the lobby — honestly. That is what I see while I am eating toast: girl swapping.
9:30 a.m.: So that thing I said the other day about this not being the season for people who like florals was slightly premature. Bottega Veneta was one of the prettiest collections of floral dresses I have ever seen. Thomas Maier says he was looking for a way to make dresses simultaneously sweet and tough, and he certainly found one. The prints are lovely and the unfinished seams and touches of hardware never feel overdone.
10:30 a.m.: It's Valextra's 75th anniversary, and they are celebrating in a suitably understated and elegant manner, as that's how they do things: quietly. And just so beautifully! The in-house designer was given strict instructions to avoid making a logo, as that would defeat the entire purpose of the brand, but to do something special and she has, with simple chain straps on the season's newest shapes (and on a few of the classics as well). The colors are, of course, fantastic and inspire a desire for stacks of all of it: a shelf full of Valextra notebooks and a handbag full of Valextra pouches, color-coded of course.
Below the store, the company is assembling an archive, and there are traveling kits from the thirties in alligator and wallets made of now-illegal elephant skin. The bags look eerily on-time, like they could blend right into the showroom upstairs, particularly one from the seventies that has a very disco feel.
11:30 a.m.: Gelato for "lunch," and a re-see at Max Mara. The Sportmax room is flooded with slightly frenzied buyers.
12:30 a.m.: At Fendi, I am deeply intrigued by Rose McGowan's face. The clothes, luckily, are a great diversion. I particularly like a popcorn knit blue sweater dress with a white blouse beneath it, and the super sparkles that close the show. Also: fantastic shorts. 
3 p.m.: The return of Jil Sander to her own label is one of those things that's hard to explain to people outside of fashion. Yes, Jil Sander has existed for many years but no, that wasn't Jil Sander designing it. But yes, now it is Jil Sander again. And it was pure Jil Sander in its clean minimalism, and it was incredibly strong. Her clients will undoubtedly be happy to have her back (not that they weren't gobbling up her +J line at Uniqlo, but this is different). Perfect navy coats and pants and burgundy shift dresses and starchy whites that make you feel silly for dressing any other way. That's the thing about minimalists. They do make you wonder why you bother with anything else.
I also wonder what it must be like for Sander to now exist in constant comparison to Raf Simons, because she undoubtedly will.
4 p.m.: Bruno Magli is in the midst of a major redesign, and the results are being shown in the lobby of the Grand Hotel on the Via Manzoni. It's a great lobby: all gilt, overstuffed couches, and people eating club sandwiches with shiny silver cups of French fries. The collection is surprising for anyone who remembers old Bruno Magli and thinks of something quality, but perhaps a bit on the granny end of things. The shoes are really simple and done in great colors, the bags are super-classic lady shapes. The designer is in a burgundy suit and a blue shirt, and he is friendly and excited and will be opening a New York store soon.
4:30 p.m.: It occurs to me, while riding in the car, that this might be the best Milan season, like, ever.
5 p.m.: Prada leaves its runway intact and inhabits it with model-less clothes, and at the re-see, one is allowed to walk right up and touch. And to spend as much time examining the split-toe socks as possible. Various editors are leaning up against the satin-covered pillars and wondering what it would be like to cover one's walls in satin at home.
8 p.m.: Dinner at da Ilia, along with half of the American retail world. About halfway through our meal, a table of Italian men fills up beside us. The air becomes heavy with cologne. 
Sunday 
10:30 a.m.: The waiters at the Marni show (have I mentioned that the Italians are big on serving drinks and snacks and providing totally spacious bathrooms in their show venues? They are, and it's great) can barely make it out into the crowd before their trays of espresso are stripped clean by bleary-eyed people downing them like shots. It's hot and humid in the show space, and everyone seems to wish they were already in the collection, particularly the white cotton pieces. This was a graphic and clean Marni collection, and it felt like the brand took a huge leap forward by paring back. Fantastic short, wrapped trench coats and a spectacular pink leather skirt.
12:30 p.m.: Lunch with the Ferragamo team at the Paper Moon pizzeria. At the next table are Italians whom I can't understand except for how often they mention brand names. "Italian Italian Italian Isabel Marant. Italian Italian Italian Blumarine."
2 p.m.: Dolce & Gabbana never skimp on decorations (one doesn't get the feeling they skimp on much) and just walking in it feels like summertime, with lush floral arrangements hanging down from above. The designers stage their shows like great Rossellini films set in sunwashed Sicilian towns, and today is entirely cinematic and cheerful and slightly over-the-top — in a good way. There are raffia dresses and playsuits made from flour sacks marked Taormina. I'm a sucker for black lace and a crucifix, so I get entrirely jealous of the usher's outfits: black lace skirts, little black sweaters, anklets, and heels.  I'm also a sucker for designers who seem to have fun with their collections, who treat the whole thing with a little bit of humor, and when the final exit is a corseted dress made from a traditional Sicilian basket, I think it's a total delight.
2:50 p.m.: Natalie Joos, you are going to get yourself hit by a car! I am convinced that the extra traffic this season is thanks to all of the "spontaneous" "candid" photography going on in the middle of the street before and after shows. Those street-style photographers will stand in front of a charging city bus if Anna dello Russo is coming down the block. 
3 p.m.: A presentation of Bally's collection: shoes and bags of woven leather, much transparency. I run into a friend from London and our quick catchup reveals that that country is still totally full of people who live like they're on Downton Abbey.
4 p.m.: Missoni shows about a half-hour out of town, on the border of the Milanese suburbs in a vast, hangarlike space. Most exciting moment is spotting the family matriarch — I recognize her from the ads — and realizing that her cropped silver haircut is only part of the story. There's a long, braided rat's tail in the back. 
5 p.m.: At the Fendi re-see I get a close-up look at the accessories, which are sort of bonkers and great: shoes with what look like dot-candy heels and detachable metallic cuffs. Also: tote bags with plastic sleeves on the front for your Fendi Baguette, and two DIY kits, a needlepoint baguette and one that comes with fabric paint.
6 p.m.: At Ferragamo it is hot, crowded, and I am on time but late enough that my seat has been swallowed into the maw. I perch on the edge of a bench and feel humid. The collection is tough and rocker-y, with lace-up leather pants that remind me of what I saw in Rodarte, which suddenly feels like a very long time ago. 
7 p.m.: Armani combined his show with an exhibition of his more eccentric work: kooky metallic superhero stuff for Lady Gaga, for example. A lot is from Armani Prive, his haute couture collection (also the name, BTW, of the nightclub beneath his hotel where my favorite Brazilians are rumored to have dropped 60,000 Euros the other night), which is nice to see for those of us who don't go to the couture shows, as his RTW runways tend toward more restraint.
But it's also an especially pretty collection. I'm always a fan of the flat evening sandals, and tonight everything on the runway is just so light. The show closes with a series of dresses that look like a pretty, starry night sky.
Related:
Amy Larocca's Milan Fashion Week Dispatch, Day Three
Amy Larocca's Milan Fashion Week Dispatch, Day Two
Amy Larocca's Milan Fashion Week Dispatch, Day One