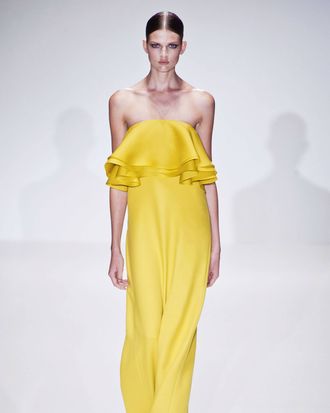 Photo: Imaxtree/Alessandro Lucioni
Wednesday, September 19
9 a.m.: On the ground at Milan Malpensa. The (very slow) line at Passport Control is clogged with fashion people who, by the way, really do travel the way they are always describing in magazines: with spritzer bottles, cashmere wraps, lip gloss, and so on. It's impressive.  There are lots of ponytails, Piamita pajama pants, and makeup-free faces, which only makes me realize that most people do, actually, really wear makeup. Lots of it.
2 p.m.: I'm checked in, unpacked, showered, and on time for the Gucci show. The vibe is a glamorous, seventies in Palm Springs sort of thing, which may be because much of the collection is based around the idea of tunics: Some are worn over long pants, others turn up as short dresses. I love the evening dresses with the enormous flounces and open backs — such a good combination of excess and simplicity. Mostly bold, solid colors, like fuschia, teal, and the kind of yellow that looks amazing on some people (a certain type of well-tanned blonde, for example, but also a certain fair, black-haired type) but sort of off on everyone else. Which, for the record, is fine by me. Not everything is for everyone, nor should it be.
Am sitting there feeling all surprised at how awake I am until I realize that I've spelled "green" "grean" in my notebook.
3 p.m.: Nap.
5 p.m.: Armani events are often held in clean, spare modern spaces — the company's theater (where the shows are held) is all concrete and minimalism, and its hotel and restaurant are well lit, well scented, and absent of adornment and frip. So it's kind of surprising to find their actual offices (as in, the place where Mr. Armani himself keeps his working quarters) are in a spectacular villa — frescoes in every single room — with a lush garden just behind the Via Manzoni.
The company has been ramping up its accessories effort in the past few seasons, and the results are pretty great. Simple shapes in exotic skins, sparkly flat evening sandals.
6:30 p.m.: Brunello Cucinelli is a huge fan of the good life, so when he shows his dazzlingly luxe collection, he also serves up a tremendous feast in the garden of his showroom, where people linger over plates of pasta and hunks of cheese and bottles and bottles and bottles of red wine. It's all so leisure class! The clothes are inside on models who look lovely, but somehow not quite as good as the Brunello Cucinelli employees who are wandering from table to table in the garden, occasionally stopping to share a plate of bruschetta. They're wearing slouchy cashmere sweaters in neutral colors and floppy pants with espadrilles made of soft leather. They all look so comfortable, so polished, so ready for a life full of things like eating under a tent in a Milanese garden as the first bit of fall is felt in the air.