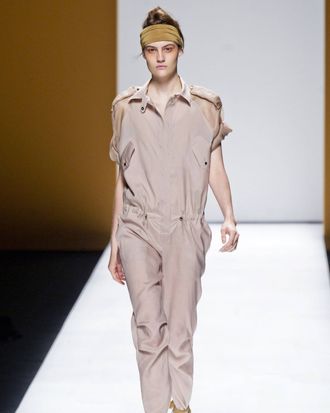 Thursday, September 20
3:30 a.m.: The nightclubs of Milan have closed, and (I will learn these details later, but I'll spare you the suspense) the Brazilian party animals staying in the six suites opposite my room have paid the D.J. to come back to the hotel. They like techno remixes of Lana del Rey. Also: shouting, clapping, slamming doors, and blowing whistles.
 4 a.m.: Much yelling in Italian (hotel security) and Portugese, knocking and slamming of doors.
4:30 a.m.: Yelling, slamming, techno. 
5 a.m., 6 a.m., 7 a.m.: See above.
7:30 a.m.: Brazilians decide to take their party to the Bulgari Hotel. Their fleet includes one Rolls, one Hummer, two Ferraris. They leave their personal sound system on when they go.
9 a.m.: Exit elevator in the lobby to the most apologetic collection of faces ever seen on a hotel staff. The very lovely manager tells me stories of his hotel-managing life, including the month Michael Jackson spent in Monte Carlo following his first nose job.
9:30 a.m.: Were there clothes at the Max Mara show? I am, to say the least, bleary. But yes, here are some clothes: safari suits, khaki all-in-ones (it's a big season for khaki all-in-ones), and some of the great, simple coats the house is known for. Also: pencil skirts in a mash-up of patterns, including a very English plaid and leopard.
10:30 a.m.: Benetton presents their collection in a sunny and quiet showroom nearby. No green leggings with matching rugby shirts, just bright, cheerful basic stuff anchored by printed pants and loose kimono dresses. The PR tells me about the pop-up shop currently occupying the former BP station on Houston and Lafayette Streets in New York. "There are lots of knitted things," he says, "There's a knitted broom. There's a knitted banana."
11:30 a.m.: A light, fresh palette at Emporio Armani, combined with the fantastic accessories from the night before — I like the ankle-strap flats even more when they're in motion. It's early in the season to start calling trends, but if you're into florals, this might not be your spring.
1 p.m.: Back to the hotel for a room change. The Brazilians, turns out, are booked through Sunday.
2 p.m.: Lunch outside. With what people wear to fashion shows getting more and more and more extreme and bizarre, it's nice to sit and watch the normal ladies of Milan get on with things. So much menswear inspiration: trousers, button-downs, blazers. Lots of flat shoes in expensive-looking leather and, like everywhere else in the fashion-conscious world right now, bags by Céline, Céline, and Céline.
5:45 p.m.: Outside of Prada, someone I think is Bryanboy is wearing metallic sunglasses made from a Phantom of the Opera–like mask. I wish Michael Jackson had known about those during his nose-job seclusion, which sounds like it was very lonely.
6 p.m.: I am only ever more excited by Prada. Lately, I can't get enough of clothing that manages to be simultaneously structured and supple: I pretty much want everything to be made of neoprene. Prada was inspired by Geisha-wear this season, but only loosely. Yes, there were the enormous block sandals with split-toe socks and the occasional kimono-like finish, but it was never too literal or obvious. Fur coats with flower cutouts will undoubtedly be happy replacements for the many silk motorcycle jackets (Prada, one year ago) in the audience, and there were perfectly simple dresses in navy and black whose perfect detail kept them from dullness.
Only disappointment was not being able to see Miuccia herself during her bow. Her outfit is, invariably, my favorite.