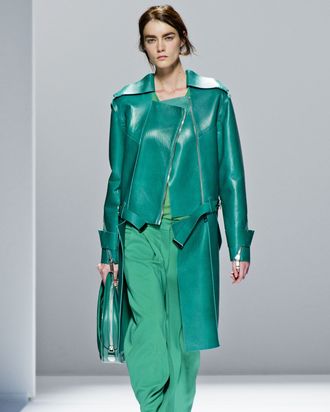 Friday, September 21
9 a.m.: My new room is small, dark and quiet as a crypt. Wake up delighted to have not been woken up by thumping bass. 
10 a.m.: En route to Tod's presentation, my driver points out my Brazilian neighbors: they are in a white Rolls with the top down, cruising the streets of Milan. There are two in front, and what looks like two couples making out in back. They look teeny tiny in their giant car. Now that they're not waking me up at night, I've become a little bit obsessed by them. What are they doing? Are they for real? When I describe them to Susan Morrison from the New Yorker, she points out that the car scene is like the Rebecca Black video. And it was, except with (I'm guessing) lots more Red Bull. And cocaine.
10:15 a.m.: The Tod's presentation is always at the Villa Necchi, the spectacular Brutalist villa that starred in that Tilda Swinton movie I Am Love. It's unbelievably pleasant: they serve little glasses of blood orange juice and everyone sits around by the pool. Inside is the collection: Derek Lam's final pieces for the house (a successor should be named soon — rumors of Haider Ackermann have been around, but not from anyone official) were on display in one room, and they were predictably luxurious and sleek, particularly a round-necked, butter soft suede coat in soft, cornflower blue. In addition to a full Roy G. Biv wheel of driving moccasins were platform shoes with ankle straps and a great pair of flat sandals that were like high-luxe hurraches. In another room were the new couture pieces: intricately beaded and bedazzled versions of the classic Tod's shapes.
11:30 a.m.: Re-see at Gucci. The spiky coral beadwork on the long, ivory gown is amazing up-close.
12:30 a.m.: Realize that I've chatted so long at Gucci, and the traffic is such that I will not make it to Etro in time. Eat an enormous cinnamon gelato instead.
1:30 p.m.: Stop by the Bulgari showroom to see the latest incarnation of the house's handbag collaboration with Isabella Rossellini, one of my all-time favorite human beings. Status confirmed when it is pointed out that the lining of her new bags features a repeating print of bugs in homage to her brilliant Insect Sex video series.
3 p.m.: Stop by the Brunello Cucinelli showroom to see Mr. Cucinelli himself, who is rumpled (in a careful, perfect way) and charming and full of incredibly pleasant chat. We discuss his taste for good living, and how he really only likes clothing that is soft. He demonstrates how he reviews the collections by standing with his back to the rack and running his hands along the clothing. Anything that's not soft enough gets the boot. We talk about colors: even his orange must be heathered. And then we spend a little while talking about spaghetti, which he loves. 
I leave entirely convinced that his theory on life, and on fashion, is absolutely the way forward. We should be having a wonderful time, he explains, and looking and feeling fantastic while we're at it. Spend car ride attempting to find fault with this philosophy. Fail.
4 p.m.: Run into Vanessa Friedman from the Financial Times who has just had a similar experience with Alberta Ferretti. The Italian designers have always just been at some family villa, eating delicious bread made from their own wheat and drenched in olive oil made from the very trees that afforded the dappled sunlight for their long, delicious and delightful meals.
5 p.m.: Sportmax, true to its name, is far sportier than its big sibling, and it's a really successful collection. There's a new designer at the house who came most recently from Givenchy, and the clothes are athletic-inspired, young, and light.
7 p.m.: Break a heel on my boots while admiring Tim Blanks's Hawaian shirt of the day — this one a camouflage made up of naked ladies. Consider that maybe it's not a great idea to wear heels all day long when six months pregnant.
8 p.m.: Dinner at Alla Lenghe, which is like a fashion cafeteria. "I'm a little early," I tell the maitre d', who just brings me back to the dining room and gestures at the various tables full of American editors, buyers and publicists. Everyone just eats at the same few places in different configurations every night. The maitre d' says, slightly confused, "but these are not your friends?" 
Related:
Amy Larocca's Milan Fashion Week Dispatch, Day Two
Amy Larocca's Milan Fashion Week Dispatch, Day One