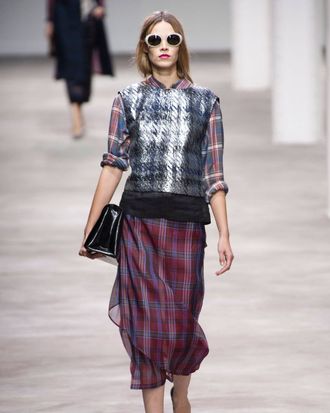 Photo: Imaxtree/Alessandro Lucioni
Before getting to Paris, a brief tour of my last day in Milan: a resee at Dolce & Gabbana, where I hear that the grand finale had 79 models on the runway at once, with each model wearing her very own, specially designed print. (This is why I love Dolce.) There was also a Roberto Cavalli show that was predictably Cavalli, with cutout trousers laced up the sides. And then there was a mad dash to Linate airport to ride the fashion bus to Paris. Relieved to know that even Emmanuelle Alt wears flats on planes.
So, there was a chance to rest in Paris, where it's been rainy and gray, which was nice, and then …
Wednesday, September 26
3 p.m.: Dries Van Noten kicked things off with a serious bang. The show was as beautiful a fashion show as I have ever seen in my entire life. There were grunge elements — the soft flannels layered with pajama pieces and exquisite, embroidered kimonos — but also so much more. There were sheer florals; there were elaborately embellished skirts. The delight was in the mix — Dries is a masterful stylist — but also in the fact that each piece was a beaut in and of itself. I would like to watch that show over and over again. And then I would like to wrap my whole self in all that flannel.
4 p.m.: I eat my second lunch at the Hotel Costes, where I swallow the desire to say, "Why is it so dark in here?" for fear of sounding really, really old.
5 p.m.: The Rochas show is in a small salon at the Grand Palais, one of those great locations that makes the whole Paris Fashion Week thing feel truly magical — the West Side Highway this is not. Sometimes the remixes at fashion shows make me a little insane — for example, the opening riff of the Beach Boys' "Don't Worry Baby" played approximately seven thousand times before launching into the song itself. It was like taking a long inhale without ever breathing out. I confess to being slightly distracted — Will this be the time it starts? — but clued in to see very pretty brocades that were surprisingly light. It was a good show, but if I were a fashion designer, I would most definitely not want to follow Dries …
6 p.m.: New York jewelry designer Eddie Borgo shows his collection in an apartment above the Palais Royal. (Again with the locations!) His inspiration for the season was the supermodels of the eighties — think Linda, Naomi, and Christy in sweatpants and Run-DMC chains. His stuff is so admirably versatile: a chain that becomes a bracelet that becomes a choker or a belt.