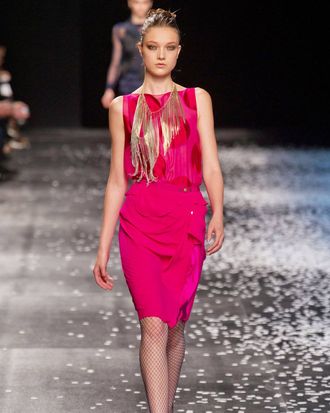 Nina Ricci
Photo: Imaxtree
Thursday, September 27
8:30 a.m. Am delighted to discover that I do, in fact, remember the location of Best Croissant Ever, which is a small and non-descript bakery called Julien on the Rue des Petits Champs, just off the Avenue de l'Opera.
9:50 a.m. Arrive at Balenciaga and sit down next to a friend who announces that she rode in an elevator with Zinedine Zidane at the Park Hyatt the night before and that it was basically like riding in an elevator with sex itself.
10 a.m. After last season's zany and brilliant take on corporate life, Balenciaga returns to its St. Germain showroom with (another) completely spectacular collection. This one is less specifically thematic, and perhaps less dramatic than the previous two. No storm trooper helmets here, no Star Wars sweatshirts, just lots of breathtakingly modern proposals for how to get dressed. The signature Balenciaga ruffle was rendered in high tech fabric and paired with a series of boxy, midriff-baring tops in a combination that felt simultaneously refined and cool. There are not many people alive who can pull off that trick, pull it off twice a year, and make it look like it's easy.
11 a.m. Carven is one of those collections that's wearable, solid, and developing a devoted following. The show doesn't rattle the world, but it's a really good one and I'm sure the many Carven fans in the audience (they're the ones in the A-line skirts, the collared shirts, the pretty sweaters) will find lots to love.
Noon A quick lunch at Angelina on the Rue de Rivoli. Sadly, there's no time for hot chocolate.
1:30 p.m. Up to Republique for an appointment with the shoe designer Pierre Hardy. We agree that no shoe — however beautiful — looks good when the woman wearing it looks hobbled. And so: a fantastic range of heel heights and shapes. Hardy makes some of the world's best wedges, not to mention a tremendous pair of disco kicks. It's so rare to see a collection of shoes in which there is actually something that could work (and work beautifully) on pretty much every woman you know.
2:30 p.m. Just enough time for a dash through Merci (for me and my house) and Bon Ton (for les enfants). Not enough time to actually shop, but wish list in formation. I do not know why French children's clothing is so much better than other children's clothing, but it is. Also, we have very nice shops in New York, but there is something about Paris that makes you want to buy all the things all the time.
3 p.m. Inside the Balmain show  it always feels like evening, even as the streets around the Intercontinental Hotel are mobbed with busy weekday hustle. It's dark in there, lit only by a massive chandelier on what is potentially the world's most massive dimmer. The clothes are just. So. Eighties. Huge shoulder pads! High-waisted, pleated leather pants. I wonder if he and Eddie Borgo have been talking. These are clothes for women who do aerobics, watch Dynasty, and think of health food as melba toast and cottage cheese.
6 p.m. Nina Ricci in the Tuileries Garden. Before the show it "snows" petals on the runway. "Oh, the waste!" complains the person next to me. Look, I want to say, fashion is not the most eco of businesses — have you seen your invitations? But this is beautiful. It really, really is.
 9 p.m. A dinner in honor of Balmain at La Perouse, a super-old restaurant on the Seine. The models all look fantastic in their current season looks — sparkly and glamorous. Dinner conversation is about model age limits. Daphne, the model to my left, tells me about being on a casting with a 12- year-old, which makes me feel incredibly sad.
I turn into a pumpkin well before the dessert arrives (to give you a sense of things, appetizers appeared just before 11:00) and head home to conk out — dreams of Balenciaga.