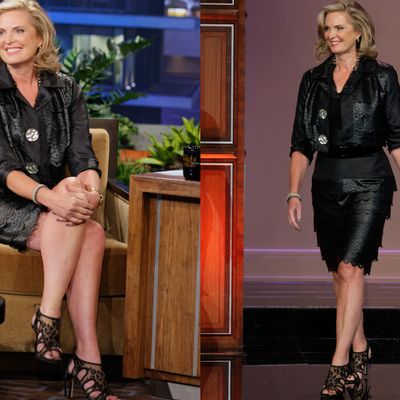 Ann Romney's black leather.
Photo: Paul Drinkwater/NBC/NBCU Photo Bank via Getty Images
Ann Romney is not one to take sartorial "risks." Even when she's worn something noteworthy (there are really only three instances: that Reed Krakoff bird shirt, the bright-red Oscar de la Renta dress, and the Lisa Frank–esque ensemble), her outfits are still conservative and momlike. Which is why this black leather getup she wore on The Tonight Show With Jay Leno last night is so exciting and preposterous. It's rare enough to see her without a red blazer and pearls; to think she'd appear on national TV in a tiered, above the knee skirt made of laser-cut leather, complete with lacy stilettos, is almost as implausible as the idea of her going sleeveless.
There's a lot going on with this outfit, so we've broken it down in our analysis:
Top: Where to start? It's hard to tell, but this looks to be a perfectly ordinary black jacket that took a crazy turn and wound up with saucer-size buttons and perforated leather ruffles stuck to the front. It seems that she's also wearing a black shirt underneath and came onstage with the jacket undone (assuming those buttons even fit through buttonholes at all) to show a sparkly necklace underneath.
Hair and makeup: Her hair looks a little more bodified than usual, like someone used fat rollers or maybe a barrel-curler. It looks nice. Her makeup looks the same as always — it's quite minimal, especially for TV.
Jewelry: She's wearing the works: necklace, earrings, multiple bangle bracelets, and a watch. 
Skirt: Part of a matching skirt-jacket combo, the skirt is made of more tiered leather, laser-cut to look like lace. It's a confusing garment, resembling a three-way between a petticoat, a Black Swan–style tutu, and an S&M costume; it's also quite a bit shorter than what we normally see her wearing, falling just above her knee when she's standing and hitching up to miniskirt length when she sits down.
Shoes: Lacy and strappy, with high stiletto heels. She should've just gone all the way and busted out a pair of Louboutins. She surely has some kicking around somewhere on the second floor of one of her closets.
Nails: Mauve. 
So, what was Ann trying to say with this outfit? Perhaps she's hoping to appear a little younger, edgier, and more glamorous; she did tell Leno a story about "making a video" for Mitt (wink, wink) during his last presidential bid four years ago, in which she told him she'd "never do this again." (Mitt's answer: "You say that after every pregnancy!") So she wears racy black leather and uses video equipment. More of that, Ann, and fewer Welsh cakes please.
Related: Dressing to Stump: Ann Romney's Campaign Style