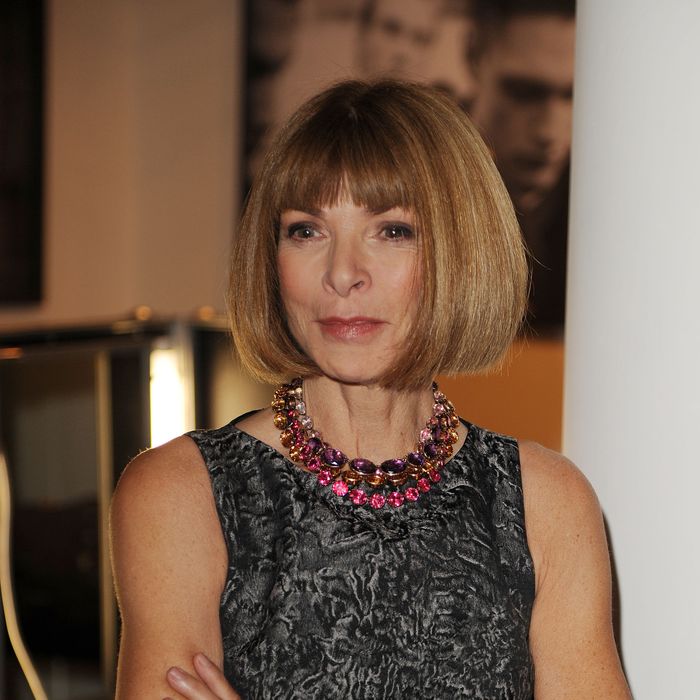 Photo: Eamonn McCormack/Getty Images
To promote the opening of rag & bone's boutique in London's Sloane Square, the brand held a special presentation of its spring 2013 collection in the city yesterday afternoon. The show itself didn't take place in the new store; instead, a special tent was put up in a traffic island in the high-end part of town. Rather than crowd a small sidewalk and risk a fashion person in heels tripping and being hit by a bus, there was sufficient space for guests like myself to mill around while overzealous security guards shouted about how we'd have to wait for the "VIP people" (that's Very Important People, people) to enter first and have some drinks. It really wouldn't be Sloane Square without some veiled class warfare.
With only two rows of seating for, yes, the "VIP people," us remaining attendees stood; the children brought along by London's crop of "yummy mummies" were relegated to the floor. Models like Jourdan Dunn and Cara Delevingne walked out in small groups, posing in front of a series of large video screens. A small camera placed by the side of each of these screens showcased the back of each model's look after they'd strutted offstage — because backs are a (good) thing now — along with some slo-mo effects. As a result, us regular folk got a great view of the front row … and sitting just toward the end of it (next to Neiman Marcus's Ken Downing) was Anna Wintour — taking great pains to avoid looking directly at herself on the screens, it seemed. Anyway, most people didn't seem to care. But I did.
Without Ryan Lochte in the house, Anna didn't sprint out at the show's conclusion. So I stopped her to ask — in my best extra-polite British accent — whether she'd have time to give me her thoughts on the presentation, London Fashion Week in general, and the cute guys serving the drinks she, as one of those "VIP people," had likely enjoyed preshow. Okay, I didn't say the last one aloud. She looked me up and down — I tried not to shudder — then smiled, and said, "I'll be right back." Then she walked away. I turned to fellow Cut reporter Hattie Crisell and said, "She's not coming back, is she?" and Hattie shook her head in that same sort of way doctors in Lifetime movies shake theirs when the tragic heroine asks if her cancer is curable. My heart sank. But Hattie and I waited a few minutes all the same, because if nothing else, writing a post about how Anna Wintour is a big meanie who promised to come back to me at Fashion Week should drive decent traffic.
And it was just as I mentally finished my draft that Anna sauntered back over. She was smiling again — almost as if she knew I'd be surprised by her return. With a bodyguard holding her striped coat a few paces behind us, she stood close enough that I could see a small, light fingerprint's worth of foundation on the left lens of her sunglasses and answered my questions, gamely, for a solid five to ten minutes. It was a nice little chat; she was extremely pleasant. Contrary to my impression, she'd thought the big screens onstage were "really amazing"; she'd even preferred the presentation here to the full New York show, because, for the former, "it was about 100 degrees, too hot" and maybe even a bit sticky. (It's an inevitability that, when two British people get together, the weather becomes a subject of conversation.) "It's always great to see a New York–based designer coming over here [to London]," she continued. "The store is really going to help revitalize Sloane Square. It's been a bit sleepy." I didn't think to ask how she could possibly consider Pippa Middleton's home turf to be "sleepy."
However, now that we're besties (why, we even shook hands!), I'll be able to throw tougher questions at her the next time we hang out.