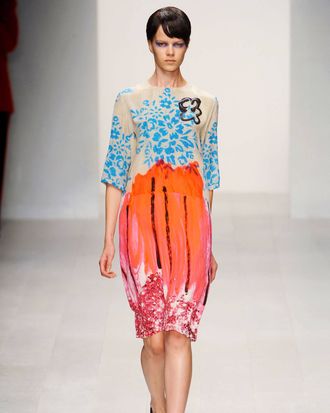 On day one of London Fashion Week, with new shoes that are already hurting (a lot), we kicked off our morning with Antoni & Alison.
The design duo is celebrating 25 years of work and introduced the show with two monologues in which Alison Roberts reminisced about moments of no money and despondence over being misunderstood, while Antoni Burakowski said that, despite times when "we've eaten crisps and been fat and lazy and couldn't be bothered," he'd always felt their designs were influential and much loved.
The relentlessly colorful New Work collection combined simply cut silk sheaths with photographic prints and hand-painting. The prints included photos of sparkling brooches, flowers, and textured fabrics, and joyful marks were made with paint, ink, spray paint, pencil, and gold leaf. As the pair said in the show notes, "We used every colour we own."
The show was soundtracked by the High Society Marching Band, in immaculate red uniforms, who took a turn round the catwalk for applause. Though Roberts insisted, "We're not at all kitsch or quirky," there was definitely something quirky about the whole show — and it worked.
See the complete Antoni & Alison spring 2013 collection here.