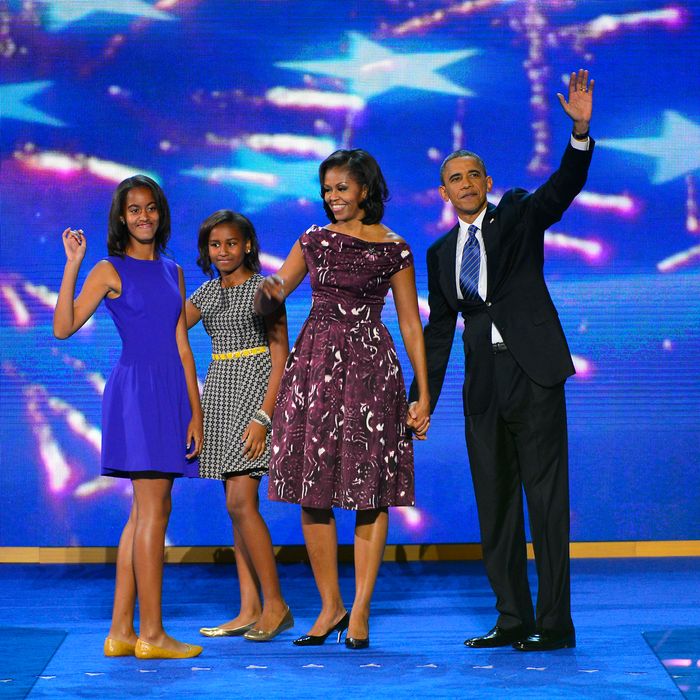 Malia, Sasha, Michelle, and Barack Obama.
Photo: Harry E. Walker/MCT/Getty Images
The first family took the stage in their DNC best last night, with Michelle wearing a violet dress by relatively little-known designer Laura Smalls. (Giving credit where it's due, Maureen Dowd totally called this years ago.) While slightly more subdued than the pink brocade outfit Michelle wore earlier this week, the sleeveless dress was both striking and ladylike, with a draped boatneck, fitted waist, and full skirt. She also wore a purple daisy pin on her shoulder, which blended in with the fabric pattern.
While Michelle looked nice, the first daughters really stole the show, partially because they rarely make public appearances but also because they looked great. Ages 11 and 14 respectively, Sasha and Malia wore similar silhouettes with trim waists, A-line skirts, conservative necklines, and hems that fell just above the knee; both wore ballet flats. Malia's jewel-toned purple dress was a $59.99 garment from H&M, according to a press release from the brand; Sasha wore a gray and black patterned dress with small sleeves and a shiny yellow belt. They looked polished and pretty, but best of all, they looked like healthy, happy kids. 
Related: Maureen Dowd's First Fashion Week in Years: 'Sexy!'