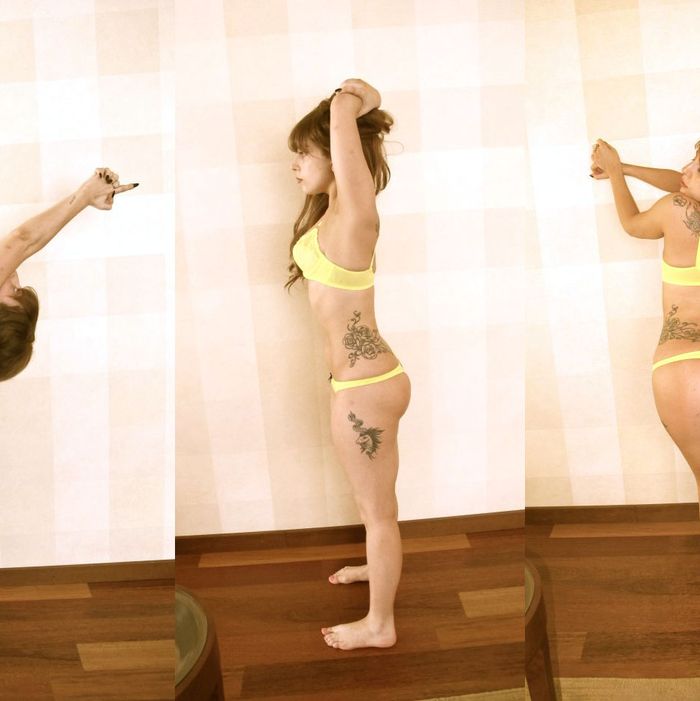 Photo: Littlemonsters.com
Lady Gaga posted pictures of herself in her underwear on her Little Monsters social networking site this week to prove that she has not been broken by news media reports of her recent weight gain. Or to prove that the media had overrepresented her weight gain? It's hard to say.
The whole body acceptance movement gets complicated when you throw people who are professionally beautiful into the mix. Lady Gaga herself was criticized when she acknowledged the sheer labor involved in starving herself into a piece of conceptual art. "Just killed back-to-back spin classes," Gaga tweeted. "Eating a salad dreaming of a cheeseburger #PopSingersDontEat #IWasBornThisWay."
It's a confusing message given that if you have to do back-to-back spin classes to achieve your goal weight then, no, you weren't born that way. Maybe she was "born" willing to make a lot of sacrifices to adhere to the beauty norm? At any rate, it was cool that she didn't seem victimized by it, even after celebrity news outlets noticed that she'd put on weight this month. Rather than go on Katie Couric to complain about the media, which would be totally understandable, she called up Z100 D.J. Elvis Duran to say, yeah, she gained 25 pounds, is on a diet now and doesn't feel bad about it.
Since then, however, she's admitted to having eating disorders and launched a BODY REVOLUTION. "Bulimia and anorexia since I was 15," she wrote. "But today I join the Body Revolution … To Inspire Bravery … And BREED Some M$therf*cking COMPASSION." Her Little Monster fans took it as a call to arms and posted their own half-naked selfies, with messages like, "I'm a recovering anorexic and gaga is helping me to get healthy and love the skin I'm in!" In response, Gaga praised her fans for being "brave in their vulnerability" and creating "a safe space online for people to be compassionate."
I, too, commend the Little Monsters' bravery, and humbly advise that when posting photographs of their "size: confident," yes, but still totally underage bodies on the Internet, they remember to crop out their faces.