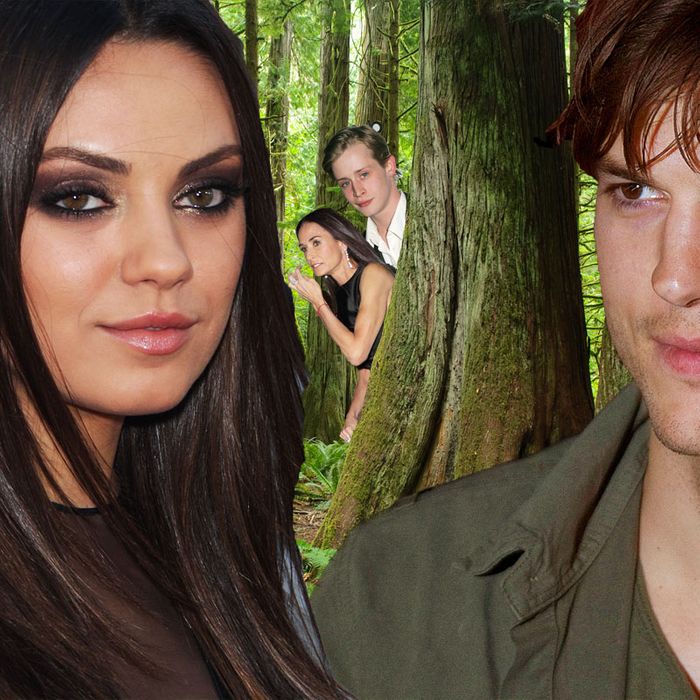 Ashton Kutcher concluded an amorous stroll with Mila Kunis in Central Park on Monday with an open-air make-out session mere blocks from the swank apartment he once shared with Demi Moore. —Mila and Ashton Kiss and Cuddle, New York Daily News
Ashton Kutcher concluded an amorous stroll with Mila Kunis in Central Park on Monday with an open-air make-out session mere blocks from the swank apartment he once shared with Demi Moore. —Mila and Ashton Kiss and Cuddle, New York Daily News
Ashton and Mila were meant to be, written long ago in the stars over a fictional psychedelic Wisconsin. They were just kids then, fools to leave each other behind; but fame and fate brought them back together, to forge what Kabbalah and matrimony had torn asunder.
Against all odds, it was Ashton and Mila who took the silver screen by storm after That '70s Show, even though Topher Grace had a Spider-man movie and Wilmer Valderrama used to bang LiLo. Ashton's rise was quick and involved an automotive mystery Hitchcockian in plot twists, Kurosawan in unreliable narration. But Mila took longer to blossom in the public eye. Then bloom she did, overnight becoming the stuff of men's magazines and Natalie Portman's fantasies.

Mila's star went supernova. One day she was in American Psycho 2, a straight-to-DVD release with William Shatner, and the next, she was buoying her Black Swan co-star to a Best Actress Oscar win. Their intricately choreographed dancer-on-dancer hot action was Jenna Jamesonian in lip-biting, Sasha Greyan in cunnilingus. Showered with scripts from acclaimed writers and directors, her life changed with a plié. Overwhelmed, borne up in a flutter of suddenly A-list wings, Mila reached out to Ashton for support.

Ashton never had the problem of choosing from too many promising scripts, but well did he understand the pitfalls of prestige, the harsh glare of limelight. His 12 million Twitter followers had become a heavy, heady burden. Yes, everyone was watching, and judging him harshly; even his lighthearted jokes about child rapists got flack these days. The 28 million viewers who watched his Two and a Half Men cast dark shadows over the once-merry Punk'd prankster of Tinseltown.

Yes, Ashton had been sympathetic to Mila's plight. me & demi in the holy land, he responded, but lets get a drink soon. like old times.

He sent a winky smiley face, and Mila laughed. It was just like old times. They had been friends for fifteen years; he had been her first kiss at the tender age of 14, given onscreen, when playing a doddering idiot and a narcissistic bitch in bell-bottoms. How could they have ignored the inevitable?

When they finally reunited in the face of Ashton's crumbling relationship with Demi Moore — after the hot tub orgies, after Demi's whip-its — they knew it was their time after years of denying what had always been between them. "We're like Joey and Pacey," said Ashton, taking Mila's face between his hands in an echo of their ancient first kiss. "Sam and Diane. Ricky and Lucy. Dylan and Kelly. Bert and Ernie." She melted against him.

Social media was their only point of conflict between the young lovers. Though she had dozens of imitators, Mila wasn't on Twitter, and it sprung up like a wedge between them. Ashton dreamed in hashtags, spoke in yfrog. Sometimes it seemed that an ocean of Pinterest pins divided them. It was something @mrskutcher understood, that Mila could not.

Still, they were so happy that Mila learned to ignore the mobile glued in his hand, the way his eyes snapped to it with every bing and ping. Escaped to New York together, they shared a blissful day, fed each other delicious morsels at lunch, and roamed Central Park. There they got amorous thinking of all the couples who had rolled in the grass before; Ashton caught Mila's slight form up easily in his arms and pressed her to the rough bark of a tree.

He seized her amid the greenery of the Park, making love with truly astounding endurance. With only skin between them, the blue sky overhead and the earth below, Mila reflected on how they came together, to be adults grown wise, made smarter by mistakes like Brittany Murphy and Macaulay Culkin. When Ashton's phone alerted him to a direct message from Kim Kardashian, he let it buzz and buzz, and never was there a truer declaration of love.

Far above, on the terrace of the apartment once shared with her still-husband, a hunched shadow watched. With a shriek of fury, Demi Moore tossed one of the enslaved wood sprites responsible for maintaining her fresh, dewy look to its death. She set down her superpowered Nikon binoculars and the Frappuccino made from the blood of virgins and calibrated to preserve youth, and zipped her face back into position. One clawlike hand, bound with red string at the wrist, reached sideways for the can of whipped cream.
Amelia Casey is a romance novelist. Her most recent book, Taken by the Highwayman, makes Lady Anabel Mayward quiver.