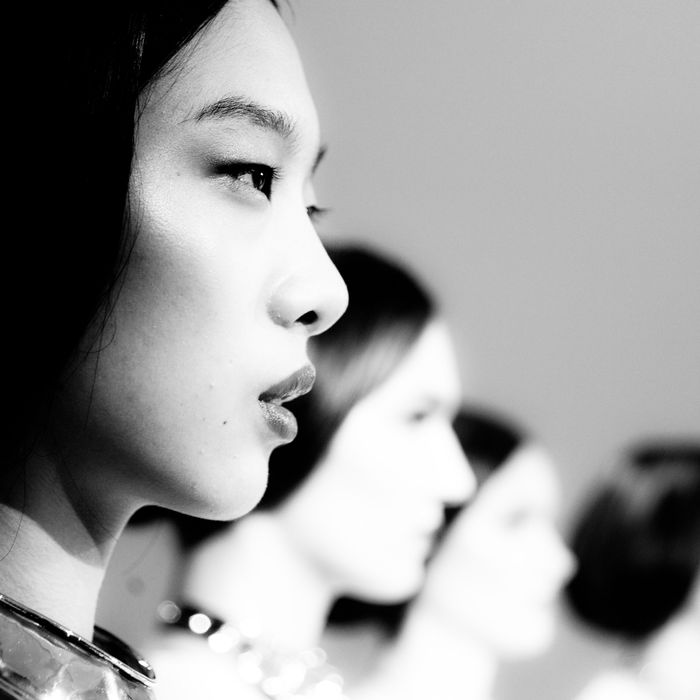 Photo: Carly Otnessnyc.com/BFA
Anndra Neen's spring 2013 collection, shown at Milk Studios as part of MADE Fashion Week on Sunday, took its inspiration from 1930's dance movies. The label's designers, sisters Phoebe and Annette Stephens, dressed to match their presentation's models — any excuse to go vintage, really — but after discerning who's who, we indulged their love of all things historical and talked about their work past, present, and future.
Do you ever get the jitters before your show?
Totally, this is really stressful! We were nervous tonight, because this is our first time working with [our jewelry on] real models.
Actually, you're both dressed like your models too…
Yes, we are all dressed as classic ladies of the 1930's! We were highly influenced by Busby Berkeley's films from the 30's and the 40's.
The presentation reminds us a little of Boardwalk Empire, was that on purpose?
That was not the original intention, but we agree that our current line is reminiscent of the show. But then again, we also feel like this is a continuation of [styles] we have already been doing.
A lot of your pieces have a vintage feel, in fact.
It's actually not on purpose, but we think [the comparisons are made] because we derive inspiration from art and architecture.
With that nod to fashions from previous times in mind, are there any historical figures that you feel represent the ultimate Anndra Neen woman?
Yes, Cleopatra! She dressed to set herself apart, and even today, people think of her as a fashion icon.
Dressing Cleopatra aside, do you have plans to grow your label in the near future?
We want to open a freestanding store and do a home collection. But it's one step a time!