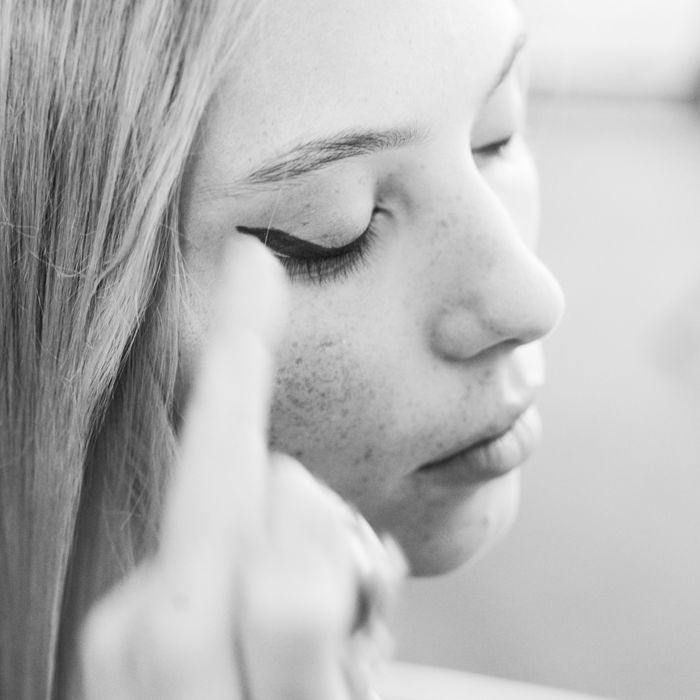 Carly Cushnie and Michelle Ochs, the design duo behind Cushnie et Ochs, showed their latest collection as part of MADE Fashion Week on Friday. Their label, now entering its fifth year, has developed a well-deserved reputation for its clean, chic, and artfully minimal tailoring, and this season proved to be no exception. We caught up with them backstage at Milk Studios after their spring 2013 show to talk fast food, Filipino fashions, and more.
Congrats on today's showing. Do you have any good luck charms or pre-show rituals to make sure everything plays out smoothly?
Michelle: Oh no … it's too embarrassing!
Carly: Should we tell?
Michelle: Ok, I have a nervous stomach, so I eat McDonald's before every show. I don't know why, but it's the only thing that calms me down … It's so weird though, I woke up today, and I wasn't hungry. That's the first time that has ever happened before a show. But, I felt like I would jinx everything if I didn't have McDonald's. So, I stopped and had a cheeseburger and McNuggets.
And you managed not to get a single grease stain on the looks. Nice. What was the inspiration for your collection?
Carly: I came across some old photos of Michelle that her mom sent from when she was younger … She's half Filipino, and she was wearing a Filipino traditional dress. I was like, this is incredible, and everything was derived from that image.
The cutouts and sheer fabrics were directly inspired by Pinoy fashion?
Carly: Yes, I suppose the country acted as our muse, and this style was completely new to me. The details, structure, color, and embroidery were all inspired by the Philippines.
So you've probably spent lots of time at Milk Studios these past few weeks. Heard any good Fashion Week gossip?
Michelle: No, can you tell us some?
Our lips are sealed. At least until this interview's over.
Carly: Well, we've been in a complete bubble in our office. Now that our show is over, we are ready to start the fun side of Fashion Week!
It sure sounds like you've been swamped; did you get a chance to see Michelle Obama at the DNC? She's worn your clothes in the past — what did you think about her convention looks?
Michelle: I saw a little bit, and let me just say that I am beyond mesmerized by Michelle Obama's arms. I mean, wow! I know people always talk about them, but I couldn't stop gawking. She looked incredible in that sleeveless dress! All I keep thinking about is how much I need to work out.
And how about Sasha and Malia, style-wise?
Michelle: It's unbelievable that they are growing up so quickly! They look so great as they are, but I hope they are allowed to find their own style — to explore different looks and not be so conservative now that they're teens.