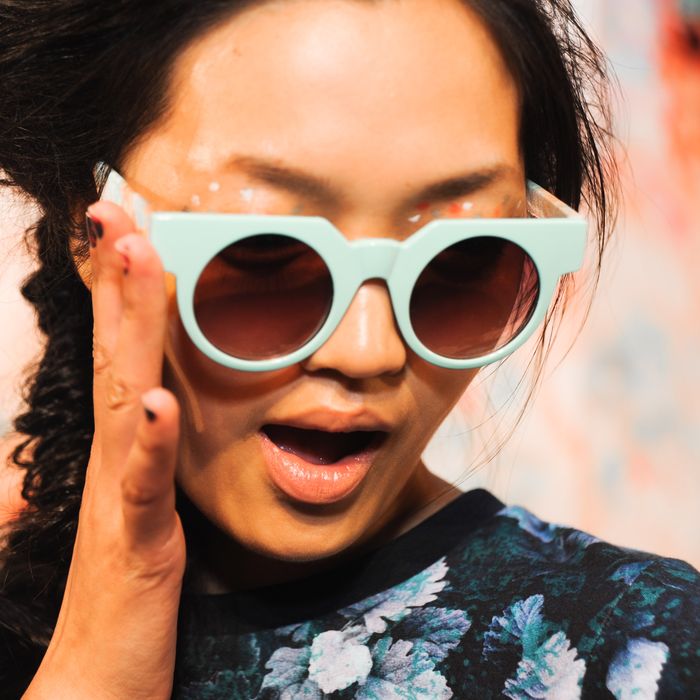 Photo: Carly Otnessnyc.com/BFA
Raised in Toronto, schooled at Parsons in New York, designer Calla Haynes now lives in Paris. But she still looked to home — specifically, a forested island on a lake in Ontario — for inspiration for her spring 2013 line, which she presented at Milk Studios on Saturday. We caught up with Haynes backstage to find out more about her vacation, and the collection it inspired.
What inspired the collection this season?
This time, I was thinking about what I was going to do for my August vacation — heading to a cottage on a lake, in a little island [in Ontario], in a forest with tiny hills everywhere. A lot of the prints are inspired by when sunset hits the trees and the lake and that reflection. There's this calm feeling of just… relaxing.
How did the prints and silhouettes come together?
I'm always inspired by texture and then nature and photographs. There's always an artsy side to it, but for that really dynamic print I just experimented with paints and cardboard, smearing it and making those sort of spirals. And then I scan it all in Photoshop and it's like a collage—I just pile it all on to each other… It's the juxtaposition of that ethereal calm, relaxation and general reflection, and then this burst of energy and something that's sporty. So we used a taffeta like a windbreaker; we did sort of a sporty windbreaker and a trench coat. It's a real mix of sporty energy meeting relaxing in nature.
Could you pick a favorite look from the line?
I'm really, really proud of the embroidered dress because I worked with Lemarié in Paris. They're specialists in all feather and flower work. They interpreted (one of my prints), and made the leaf embroidery on the dress. It was really one of the most amazing experiences I've had so far as a designer, to be able to collaborate with these people. It was really an honor.