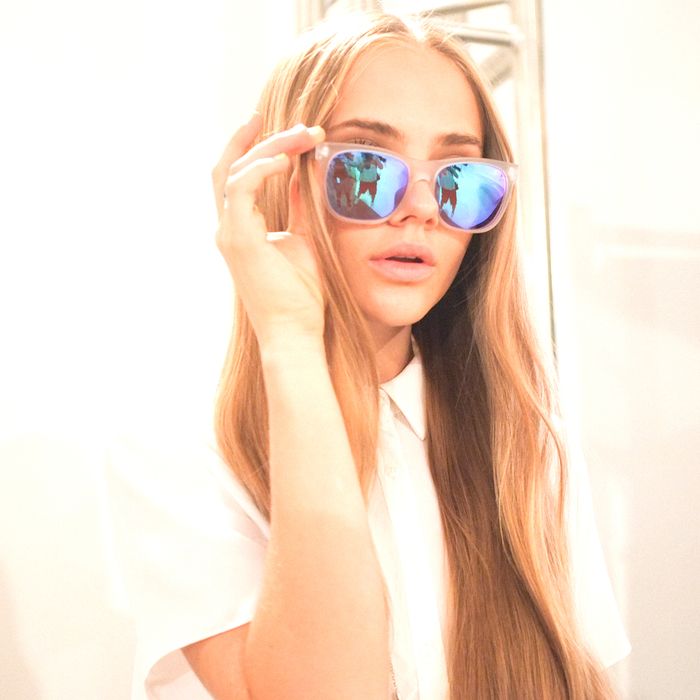 Since launching his first womenswear collection in 2010, 27-year-old designer Jonathan Simkhai has been blowing up the hot-talent-dar. Last night, he hosted his first presentation at Milk Studios with a bright, playful collection inspired by the seventies' sun-drenched vibes of Venice Beach skate parks. We spoke with the New York native about California chill, why all girls want a little fem, and his dreams of dressing Michelle Obama.
So it seems you've been spending a lot of time on the West Coast?
Yeah my brother lives in California so whenever I am there I go down to Venice, see the Lords of Dogtown. Those boys, all the girls love them or want to be them. You just want to be part of that culture, so carefree, just chilling hanging out by the beach.

So were you nervous before the show?
I was excited. Nervous obviously though too; this is my first time at Milk. I didn't know what to expect. But everyone is super cool, the energy, the people that work here who are willing to help and make everything happen.
Your work tends to blur gender lines …
I think that girls want to definitely be pretty, no matter what. It is important to keep that at the core. But they love everything that has that little boyish twist. My girl at least.

Did you watch any of the Democratic National Convention?
I didn't, I have it on TiVo though, so I am going to review it as soon as I am done with this so I feel relevant and current.

So how would you dress the First Lady that wins?
Not like a boy. I think that fit and flare is very complimentary. It kind of depends on her body type.

What about Mrs. Obama?
I had a dress my first season that I called the Michelle Obama dress because I wanted her to wear it so badly. It was fitted at the top and had a full skirt. It was black-and-white like a tie-dyed shibori print on silk twill.