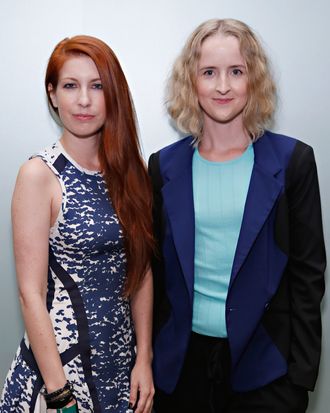 Photo: Cindy Ord/2012 Getty Images
Alexa Adams and Flora Gill, the architects behind Ohne Titel, showed their spring 2013 collection as part of MADE Fashion Week on Monday. The Parson's School of Design alumnae played with optical illusions, inspired by the artist Karl Wirsum's graphic and whimsical drawings. The Cut talked to the girls backstage about the importance of individuality, strong women, and more.
How would you describe the collection?
Adams: Really strong, bright, happy.
Gill: We found Karl Wirsum's book completely by chance at Family Store in L.A. His stuff is whimsical and fun but also subversive and unusual.

Any preshow rituals?
Gill: There are certain mundane things, but this time we actually finished with everything early — for the first time!

So, since you finished early, did you get a chance to watch the DNC?
Gill: A tiny bit.

Anything stand out to you in that tiny bit?
Gill: One thing I loved is that they really did highlight women.

How would you dress Michelle?
Gill: Oh … I think she'd look amazing in a lot of these … look six, a light turquoise drop-waist dress, or seventeen, a graphic black-and-white dress, would work great for her.

Do you have a favorite look in the collection?
Gill: Look one — it's the exact perfect blue. And look eighteen — I love how it's graphic and ombre.

Do you have a favorite style icon?
Gill: I really like women with a lot of individuality. Caroline Issa, Cecilia Dean …

Who was the last person you called?
The last person I called was probably Alexa [laughs].