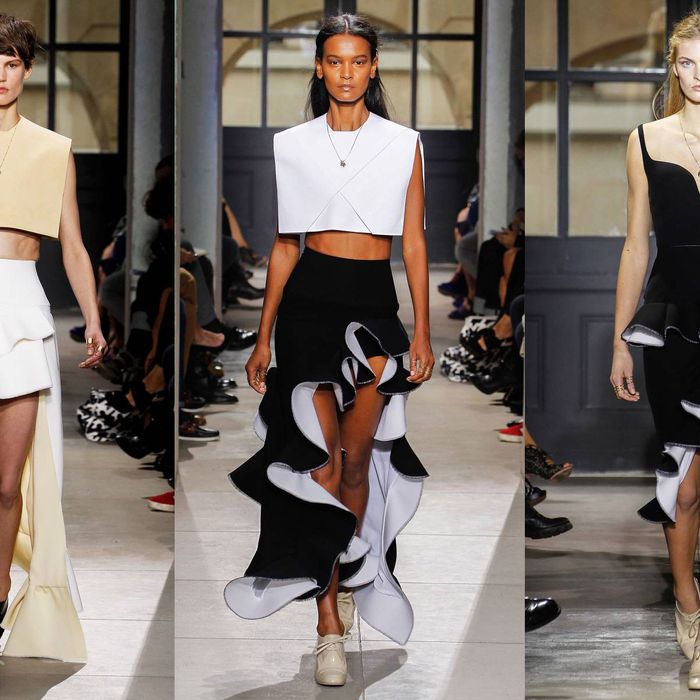 Nicolas Ghesquière showed a lot of his usual boxy tops and jackets at today's Balenciaga show, but he tempered the angular shapes with asymmetrical ruffly skirts, rendered with stiff, double-faced fabric and molded into sweeping curves. The result was equal parts party and business: Ghesquière managed to make flamenco-esque, two-toned hemlines look elegant instead of ridiculous (no small feat). Balenciaga face and front-row sitter Kristen Stewart was similarly enthralled, according to Cathy Horyn, who got stuck behind her in line to talk to Ghesquière after the show:
She talked and talked. Oh, brother. As Mr. Ghesquiere listened, she worked her way from outfit to the next, saying what she liked about it. She skipped nothing and her enthusiasm showed.
And, with no patterned pants on the runway this season, these skirts will have to do for her Twilight press tour, which gets more exciting by the day.
Related:
See the complete Balenciaga spring 2013 collection here.
Kristen Stewart's Pants Did Not Disappoint at the Balenciaga Show Today
Zoom Shot: Balenciaga's Barbed Wire