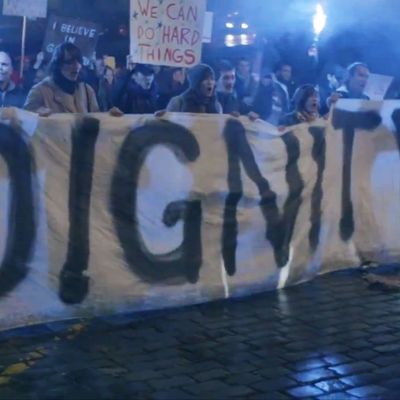 Benetton's new campaign.
Photo: Benetton/Youtube
Last year, Benetton imagined an alternate (and controversial) universe where Benjamin Netanyahu and Mahmoud Abbas would smooch on the lips, and with great results: The "UnHate" campaign won the Press Grand Prix award at the Cannes Ad Festival. This year, the brand is pursuing similarly idealistic goals by calling for unemployed people ages 18 to 30 to submit "project proposals that lead to positive social impact in their community" on the UnHate website, according to a press release sent out this morning. One-hundred submissions will each receive a reward of €5,000, presumably to implement their ideas (or, um, to buy some new clothes).
Says the release:
Unlike previous Benetton campaigns that have sparked controversy around an issue, this one has set up a Call to Action and a framework for HELPING the situation.
Award recipients will be chosen by an "online community" on the UnHate site and given their winnings by October 31.