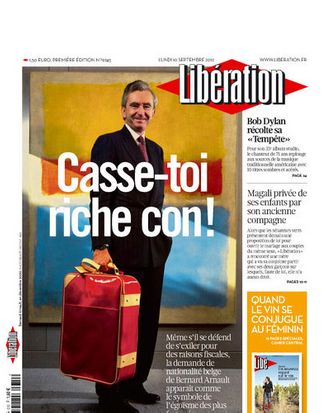 Over the weekend, the LVMH chairman and CEO brushed off rumors that he is moving to Belgium (in order to avoid paying France's new "75 percent supertax on top earners," Reuters explains), saying that he simply applied for dual French-Belgian citizenship, and plans to stay a fiscal resident of France, WWD reported. But Arnault's explanation didn't prevent one of the country's dailies, Libé, from printing a picture of him holding a suitcase on its front cover today, along with the words, Casse-toi riche con! — whose "most polite translation," as WWD notes, is "Get Lost Rich Idiot!" In truth, it's a bit more like, "Get the Fuck Out" (I spent a special été in Bobosh, an area you either know of or shouldn't, but great people!).
Anyway:
Libération's headline is a play on what France's former conservative president Nicolas Sarkozy famously said during a visit to an agricultural trade show. When an attendee there didn't want to shake the president's hand, Sarkozy retorted: "Casse toi, alors pauvre con!" (or "Then get lost you bloody idiot!"). Pauvre is also the French word for poor.
Libé posted a video of editor Sylvain Bourmeau explaining the Sarkozy link, and pegging Arnault as a politician — not only a businessman — but Arnault plans to sue the paper for public insult, all the same. As if he'd ever be caught fleeing to Belgium with such tacky luggage.