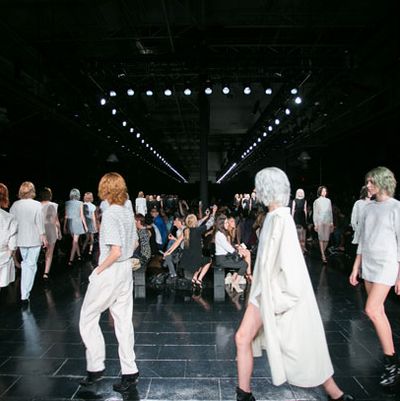 On a recent Saturday night, Jennifer Blumin, the president of the high-end event venue collection Skylight Group, could be found under a 60-foot crane at the High Line awaiting a tornado. Blumin manages the private events at the High Line — the proceeds are used to keep up the park, which costs about $7 million a year — and she was setting up for the Tommy Hilfiger fashion show the next day. "The tornado only hit Brooklyn and Queens after all," she says, "but we were prepared for hail. I went down to Chelsea Market and ate a lobster roll sitting on the High Line in the rain."
Blumin's at the forefront of a new trend this week: fashion shows in reclaimed industrial spaces, with designers increasingly drawn to locations with potent New York history.
Skylight is hosting eight shows during Fashion Week, including four at a new venue, Skylight at Moynihan Station, the colonnaded Farley Post Office across the street from Penn Station. It's never been used for large-scale events before, but as it awaits the transformation into the new Amtrak Station, the Empire State Development Corporation decided to try putting in some fashion shows and events. Rag & bone showed in the 33,000-square-foot Postal Dock earlier in the week, using the room's enormous skylights to create shadows on the floor, and EDUN decorated the space by affixing mirror boxes to columns. Phillip Lim, which showed on Monday, sent models down the runway in a kind of figure-eight pattern, creating a seating area where almost half of the 500-person audience was able to sit in the front row. (Oliver Theyskens for Theory took an exclusive on showing in Skylight at Moynihan Stations's Mail Sorting Room, a 40,000-foot space with 47-foot tall ceilings.)

Skylight Group's other historic venues — where others see an abandoned warehouse, Blumin, who is the daughter of acclaimed urbanist Stuart Blumin, sees its potential for glamour and "industrial chic" events — include Skylight Soho, an 18,000-foot gallery space on Hudson Street that used to be a longshoreman's meeting hall. Ralph Lauren has been showing there exclusively for fourteen years, spending three weeks building his own universe inside the space's blank canvas. There's also Skylight One Hanson, a beaux arts venue in the former Williamsburgh Savings Bank; Skylight West, a former parking garage near the Javits Center with the largest rooftop space in the city, where Reed Krakoff shows this Tuesday; and events at Skylight at the McKittrick Hotel, the home of immersive performance art piece Sleep No More. (In the past, that space was the not-so-historical Bed and Home nightclubs popular a decade ago). 
The Farley Post Office place came to Blumin via James Ramsey and Dan Barasch, the forces behind the Lowline underground park — they were looking for a place to hold an exhibit of their light-harnessing device and considered leasing space. It wasn't right for them — they decided on the Essex Street Market, closer to the proposed location of the Lowline on the Lower East Side (the exhibit will open Thursday and continue through the month) — but Ramsey passed it along to Blumin, who's more than a business acquaintance: She's his partner and mother of his eight-week-old, Finn (named after Phineas, the golden boy with joie de vivre pushed out of a tree by Gene Forrester in A Separate Peace). The three of them live in a loft in West Soho, biking to the nether regions of New York checking out old neighborhoods that haven't changed yet, crawling around the vacated 102nd floor of the Empire State building, and going down a sewer in Brooklyn to find a trolley terminal. "We're both gluttons for New York history books, and we've had the same dream while we're sleeping of discovering this neighborhood near the South Street Seaport," she says. "It's an eighteenth-century harbor village that's escaped the notice of every developer. I don't know how we have the same dream, but we just do."