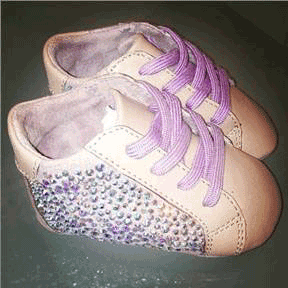 Baby version (left) and adult version (right).
Photo: Courtesy of Ruthie Davis
There's no confirmation that these baby booties have actually touched the angelic little feet of Blue Ivy, but yesterday shoe designer Ruthie Davis sent out a press release informing us of their Swarovski-encrusted existence. (Back story: Davis took it upon herself to make and send Blue Ivy some shoes because Beyonce has worn her designs before.) Update: A publicist for Davis says that the shoes were received and delivered by her Beyonce's stylist, which means they are at the Carter residence. Also, she clarified that the shoes are one of a kind and won't be for sale.