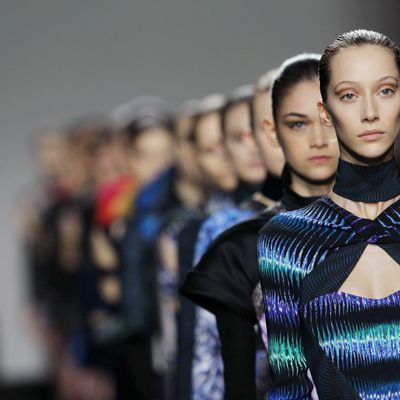 Photo: Antonio de Moraes Barros Filho/Getty Images
According to the Independent, a trade union by the name of Equity has penned a ten-point proposal outlining the treatment of models at photo shoots to be presented at tomorrow's Trade Union Congress. The group hopes to pick up more girls as members, with rules like, "Suitable meals laid on," and, "Studio temperature must be at least 21 degrees." The unabbreviated list, from the Telegraph:
1. A working day shall consist of a maximum work period of ten hours Monday to Sunday of which one hour will be free of all work. The Model is allowed to take suitable and regular rest periods.

2. The Model will be provided with all meals and beverages (taking into account dietary requirements) whilst the Model is contracted. Meals and refreshments will be provided within suitable time periods.


3. All travel expenses in the UK outside a radius of 10 miles of the studio/ location will be paid for or transport provided. In the event of work continuing after 10pm a taxi will be provided to the Model's home or temporary address.

4. The Model will be treated with respect and professionalism and all necessary steps will be taken to ensure that the safety, health, well being and dignity of the Model is protected and maintained at all times during the contract period.

5. The Model cannot be required to make permanent or long lasting changes to their appearance during a photo shoot, for example by cutting hair, unless such change is agreed by the Model at the time the photo shoot takes place.

6. The general nature of the photo shoot will be explained in advance to the Model and their Agent before the contract is agreed and any nudity/semi nudity will be personally approved by the Model before the shoot takes place.

7. A private changing area will be provided for the Models use. The Model will have access to adequate bathroom facilities including hot water in studios and on location wherever reasonably practicable to do so.

8. In the event that a Model is required to work semi nude or in very thin summer wear material the temperature will be no less than 73 degrees Fahrenheit (21 degrees Centigrade). A studio location will be kept well ventilated and reasonably warm in winter and reasonably cool in summer, and at all times consideration will be given to what the Model is required to wear and for temperatures to be adjusted accordingly.

9. During the contract period the Model must be provided with appropriate insurance cover adequate to cover all liabilities and risks.

10. Models under 16 years of age will not be used in photo shoots representing adult models.
In other words: Things you might expect when caring for a human being and not a houseplant. Laurie Kuhrt of Britain's Association of Modelling Agents (AMA) held her applause, however, telling the Independent, "I think what we will find is that there is nothing on [the charter] that the AMA hasn't already well established over a long period of time. For example, with regard to models under 16, we came to an agreement with the British Fashion Council several years ago that we wouldn't have any models into London Fashion Week if they were under 16." Obviously, no one wants a 15-year-old houseplant.