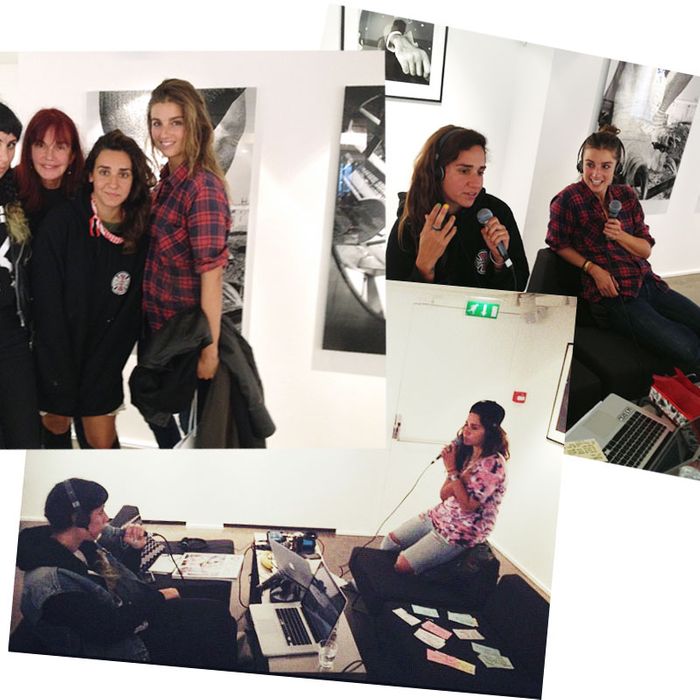 Photo: Courtesy of Carisa Glucksman
While Social Club might be the after-hours epicenter for tragically hip Parisians, Colette is certainly its daytime counterpart, even more so with Fashion Week in town. Amid racks of Kenzo button-downs and Stella McCartney trousers, and walls lined with the Sieff family's pictures, Garage magazine has set up a radio station, broadcasting live through the last runway show — except on Sunday, because the French are like that.
Co-hosts Yasi Salek (a writer and old college friend of the magazine's editor-in-chief Dasha Zhukova) and photographer-slash-former snowboarder Sara Nataf had a pretty successful run during New York Fashion Week, where they interviewed Iman, who told them about her first (blind) date with David Bowie; Martha Stewart, a friend of Dasha and, according to Salek, an extraordinary dancer; and Courtney Love, a "really fascinating, wonderful person," Salek said.
Wednesday marked Garage Radio's first day on the Parisian airwaves, and the duo sat down with a new round of guests, including Anthony Vaccarello, Caroline de Maigret, and … Nataf's dad, Robert. "He's the most elegant man in Paris, so elegant, and I look like shit," she mused, flashing her "Jamaican, smiley face, weed leaf" manicure by WAH Nails. "I'm pro … how do you say that?" "She's for marijuana legalization," Yasi volunteered. Nataf continued: "This is basically the best job on the planet because all we do every day is meet new, awesome people, and talk to them about anything we want, and become their friends."
You can tune in to their banter from 3 to 6 p.m. on garagemag.com. Expected visitors include Olivier Zahm, Derek Blasberg, and Tim Blanks.