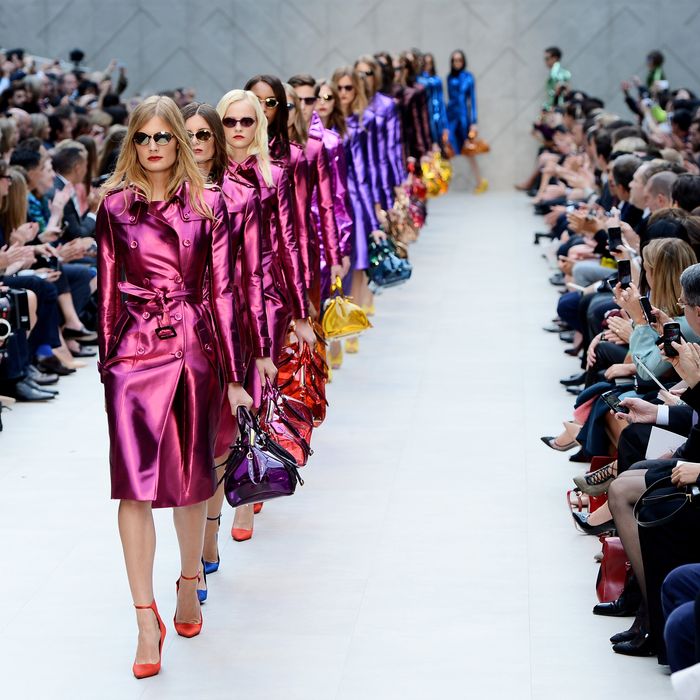 Photo: Ian Gavan/2012 Getty Images
Burberry didn't roll out the red carpet for the huge crowd of celebrities and fashion folk attending its spring 2013 show in London's Kensington Park this afternoon — there was a cream one instead, so soft and luxurious underfoot that I was tempted to feign tripping over just to make snow carpet angels on it. Not a wise option though, as there were far too many photographers in the roped-off pit outside.
The show's guest list certainly called for a congregation of (well-behaved) paparazzi — celebrities sitting front row inside included Dita von Teese, a very fine-looking Dev Patel, Aaron Paul, Maggie Cheung, One Direction's Harry Styles, Olivia Palermo, various members of the U.S.'s and U.K.'s Olympic teams, models Gabriella Wilde and Tali Lennox, and tennis man-of-the-moment Andy Murray. Murray bagged the coveted seat next to Anna Wintour; meanwhile, poor Roger Federer cried alone, whispering softly to a copy of September Vogue, "Oh, Anna, my dear, where did I go wrong?" Joe Dempsie, otherwise known as Gendry in HBO's Game of Thrones, was for some reason relegated to the second row, but I'm sure he was fine with it because he has a much more legitimate claim to the Iron Throne than anyone else in attendance.
Along with Wintour, some of the other top fashion names spotted: Alexandra Shulman, Emmanuelle Alt, Mario Testino, Stefano Tonchi, Suzy Menkes (clacking away on her trusty Dell laptop throughout), Joe Zee, Kate Lanphear, Hamish Bowles, Linda Fargo, and British Elle's Lorraine Candy. 
As the show began, the music got loud. Really loud — and this, after my neighbor to the left in typical I'm at a top fashion show, but I can't possibly be excited so I'm going to call people and talk about how miserable I am, here, at this top fashion show mode, had whined about the music's volume and other minor faults to several of her friends on her BlackBerry. While our seats vibrated to the speakers' bass, I could see her frown lines setting in. (Bad news, because there's been absolutely no deals on filler treatments in shows' gift bags thus far.) Black tarpaulins covering the venue's exterior rolled back, revealing its glass structure and flooding the catwalk with natural light. It was lovely — a little like a greenhouse and soon, as humid as one, too. Cue the models and the clothes.
This spring's collection featured quintessentially Burberry trenches and tailored separates — which Bailey continues to tweak each season just so — as well as capes, capelets, and bombers. Boxy shoulders and overall bolder silhouettes paraded in a strong, often metallic palette. Everything shone. The label's well-established and well-devoted customer base will, and should, be thrilled with the selection of new stuff to covet — as always, the line balanced just the right amount of heritage and immediately recognizable Burberry-ness with, well, shiny, happy newness. (Sign me up for one of the men's metallic button-down shirts, oh, let's say, never — but only because I'd look like a pale ham wrapped in novelty-colored tin foil. I'm still a fan of the rest.) 
A tabloid note to end with: Both times Cara Delevingne hit the catwalk, maybe-boyfriend Harry Styles looked away. We all know models keep their gaze ahead, but Harry threw nary a cheeky wink at her. That doesn't have to mean there's trouble in young, rich, and famous British kids' paradise (though the Daily Mail says there is); Harry might have wanted to make sure his steely boy-band gaze didn't make her weak in the knees and stumble in the show's already-imposing heels. Since she wouldn't have had a nice plush carpet to fall down on, that's for the best.
See the complete Burberry Prorsum spring 2013 collection here.